What do you get when you combine a generous donation to PETA, The Simpsons, NBA star Ron Artest, and NFL linebacker Aaron Curry? Thousands of free and low-cost spay-and-neuter surgeries!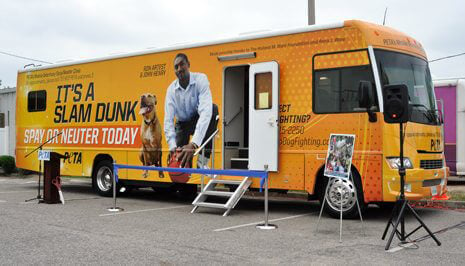 On Friday at PETA's headquarters in Norfolk, Virginia, Norfolk Mayor Paul Fraim, along with Anna Ware of the Holland M. Ware Foundation and The Simpsons co-creator and PETA supporter Sam Simon, cut the ribbon on the latest addition to PETA's fleet of state-of-the-art mobile spay-and-neuter clinics. The new clinic, which was donated by the Holland M. Ware Charitable Foundation, features photos of Ron Artest and Aaron Curry (and their dogs) emblazoned on the side.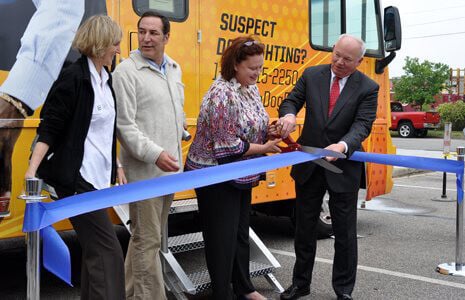 PETA President Ingrid E. Newkirk, Sam Simon, Anna Ware, and Norfolk Mayor Paul Fraim cut the ribbon on the newest addition to PETA's mobile spay/neuter fleet.

Since PETA's first SNIP clinic began operating in 2001, we have spayed and neutered more than 70,000 dogs, cats, and rabbits in Southeast Virginia and Northeast North Carolina, preventing hundreds of thousands of unwanted births. The new clinic will allow us to provide many more surgeries every year.
You can help support the clinics (which operate at a loss and rely on donations to keep going) by making a donation to PETA and signing our pledge to end animal homelessness.

Written by Michelle Sherrow