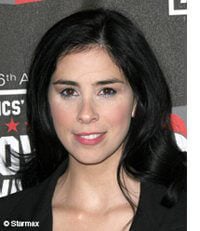 Sarah Silverman doesn't think there's anything funny about hurting animals. The comedian and provocateur has fired off a letter on behalf of PETA to Secretary of Agriculture Tom Vilsack asking that four ailing elephants traveling with the Ringling Bros. and Barnum & Bailey Circus be seized. These four girls are still on the road and being forced to perform despite the fact that PETA drew the U.S. Department of Agriculture's attention to this arthritis and lameness more than nine months ago.
Performing circus tricks is a painful struggle for these animals … Yet Ringling's elephant handlers—who have zero vet experience—continually stab the animals with sharp metal rods called bullhooks in order to keep them performing despite their ailments.
Sarah points out that veterinarians have documented incontrovertible evidence showing that Nicole, Karen, Juliette and Sara are being forced to perform grueling tricks despite suffering from lameness. Nicole and Karen also suffer from painful arthritis—the number one reason that captive elephants are euthanized.
Add your voice to Sarah's by asking Secretary Vilsack to order these four hurting elephants off the road.
Written by Jennifer O'Connor