Another circus, another ailing elephant. After PETA filed a complaint with the U.S. Department of Agriculture (USDA) about severely underweight elephants traveling with the Hanneford Family Circus, inspectors found that Liz, a 36-year-old Asian elephant, is so thin that her ribs, pelvis, and spine are protruding. Liz also has deformities of one front leg and one back leg that make walking difficult. Although it appears that Liz may not be performing at the moment, Hanneford still hauls this ailing elephant from venue to venue, and witnesses have seen her chained by two legs, unable to take a single step in any direction.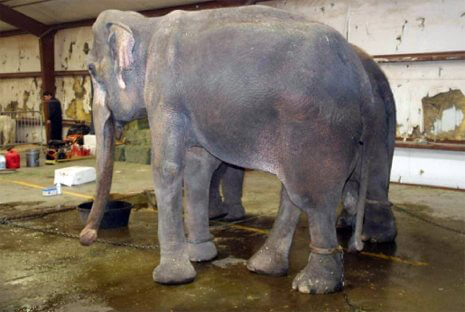 Hanneford Family Circus is often hired by the Shriners to perform as the "Shrine Circus." (The Shriners don't own their own circus—they hire animal exhibitors and other acts.) If your local Shrine still sponsors animal circuses, ask it to stop.
Liz's plight is similar to that of 10-year-old Sara, an emaciated young elephant with Ringling Bros. circus. Sara's face is hollowed, and her bones jut out. She has suffered from chronic lameness for at least two years, but according to the USDA, Ringling has not conducted adequate diagnostics or developed a treatment plan.
Please urge the USDA to order Liz and Sara off the road before it's too late.
Written by Jennifer O'Connor