Yellville, Arkansas, officials have turned a blind eye for decades, insisting over and over again that the turkeys who are thrown from a plane for "fun" during the town's "turkey drop"—part of the annual Turkey Trot—will be fine. Yet at least two turkeys are dead after last weekend's two-day event.
Here's Samuel, who was given that name by the Good Samaritan who found his battered body. He had crashed to the ground and died after being thrown out of a plane on Friday.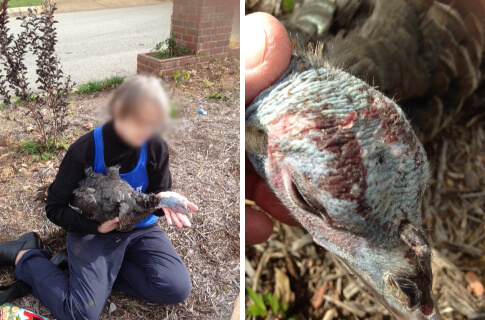 "He had a big wound there, a big wound. He has some wounds on his head, too. The scales on his feet were bleeding. So he really hit hard," said the woman who took Samuel to a veterinarian for analysis.
According to news reports, another turkey had also died—on impact—during Saturday's drop.
"They're not going to crash. They're birds. They can fly."

—Marion County Judge Terry Ott
Wild turkeys thrive in fresh air and sunshine and spend most of their time taking dust baths and pecking in the dirt for tasty treats. They aren't strong fliers and naturally remain at an altitude of 100 feet or lower (the turkey drop occurs at an altitude of 500 feet). Turkeys live in flocks and enjoy each other's companionship. At night, they hop up on low-lying tree branches to make cozy nests and to watch out for danger.
What You Can Do
Ask Yellville officials and Turkey Trot sponsors to stop this cruel madness.