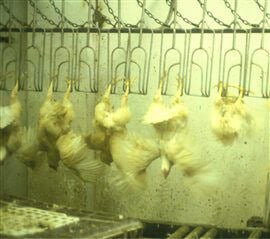 Courtesy of USDA
Hey, Soul Sister! PETA has sent an urgent letter to the rock band Train urging the group to cancel their performance at KFC's franchisee convention in San Antonio—or else face the music from PETA supporters—because of KFC's refusal to stop its suppliers' cruelty to chickens.
Many of the top names in music have taken a strong public stand against KFC, including Sir Paul McCartney, Pink, the Smashing Pumpkins, and Chrissie Hynde. Let's hope that Train gets on board, too, but if they take KFC's dirty money, they must carry the company's baggage—and PETA will protest their show.
How You Can Help Chickens
Even those of us who are not quite famous can tell KFC to take cruelty to chickens off the menu. Sign Pink's petition demanding that KFC require its suppliers to stop abusing birds (and don't eat at its restaurants until it agrees).