Ruby Rose is known for many things. She's an internationally recognized model gracing magazine covers, ad campaigns, and billboards around the world. She's an actor with breakout roles in Orange Is the New Black, xXx: Return of Xander Cage, John Wick: Chapter 2, and the upcoming Meg and Pitch Perfect 3. She's an active social media participant, with nearly 12 million followers on Twitter and Instagram alone. She uses those platforms to share her travels, offer behind-the-scenes glimpses of her acting and modeling careers, and demonstrate her dedication to her companion pups by sharing charming and loving posts about her dogs.
She's also not shy about making her disdain for rodeos very clear.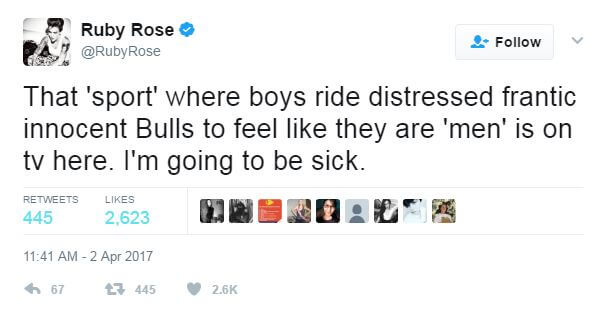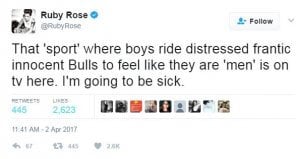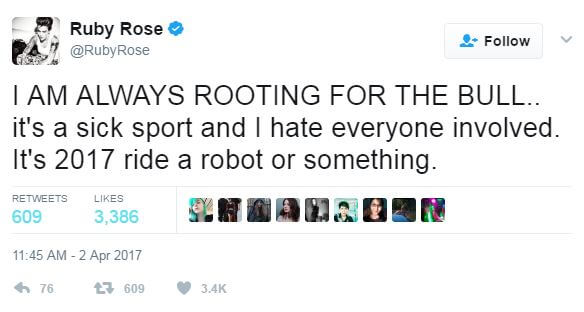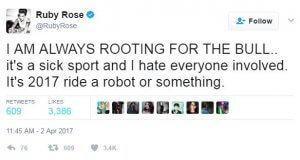 As a vegan, Ruby connects the dots between raising animals for food and damaging the environment—and suggested on Twitter that people who want to help address climate change should consider what is and what is not on their plate. Raising animals for food requires massive amounts of land, food, energy, and water, and the coproducts of animal agriculture pollute our air and waterways. By avoiding animal-derived foods and ingredients, vegans are very effective environmentalists.
https://twitter.com/peta/status/847162399866028033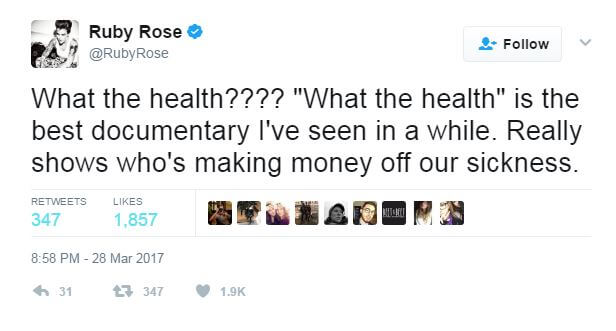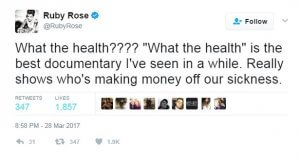 Going vegan reduces your ecological footprint, allowing you to tread lightly on the planet and be compassionate to every living being on it. With so many great vegan options readily available, eating green has never been more delicious. Whether you do it for the environment, for animals, or for your own health, you have the power to change the world, simply by changing what's on your plate.
There's never been a better time to go vegan. Order our free vegan starter kit and you'll receive everything from recipes and health information to tips for eating out!