We knew our Sexiest Vegetarian Celebrity nominee Rooney Mara was meat-free, but it seems that the girl with the dragon tattoo is also the girl who bid dairy adieu. The buzz from the Sundance Film Festival is that Rooney has been noshing on vegan eats. Perhaps Casey Affleck rubbed off on her while they were filming Ain't Them Bodies Saints. 
They'll both have plenty to munch on at the Screen Actors Guild Awards and the Oscars. To satisfy vegan nominees, such as Anne Hathaway, Jessica Chastain, and Joaquin Phoenix, the SAG awards will offer roasted beets with blood oranges, mint, and black olives; cauliflower couscous with pomegranate salsa; and farro with kale, young broccoli, currants, and pine nuts and the Oscars menu will include vegan pizza. 
Original fun girl Cyndi Lauper is also working on being a vegan fun girl and is tweeting about her progress. "I got to admit," she wrote, "my voice sounds grt frm this diet." PETA has been tweeting Cyndi some yummy recipes to try, suggesting good restaurants to stop at while she's on the road, and, of course, keeping up with all the buzz that Cyndi and other celebs are stirring up for animals on Twitter: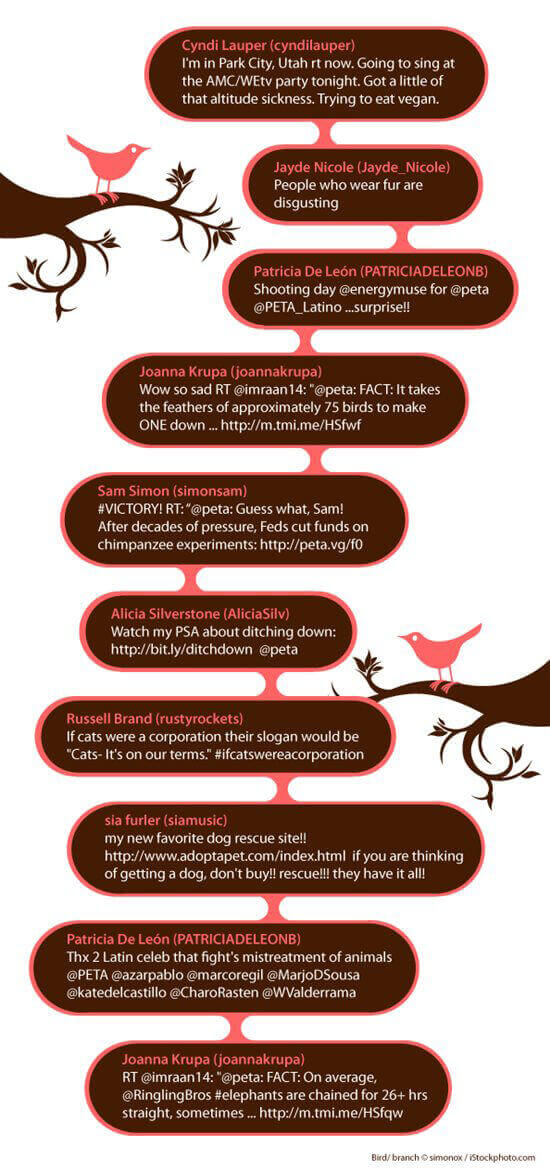 With the big game fast approaching, we're betting that Rooney Mara's family full of football fanatics—as well as scores of other folks—will be taking PETA's advice and serving up vegan wings on Super Bowl Sunday. What else would be appropriate while cheering on animal defender Terrell Suggs and the Ravens?
But it will be a bittersweet end to the season for us if our buddy Tony Gonzalez really is hanging up his cleats for good. Tony is reportedly considering retirement, and while we hope we get to cheer for our favorite Falcons player again, we're proud that he will go down in history as the greatest tight end in the NFL. 
To keep up with what all your favorite stars are doing for animals, follow @PETA on Twitter.