Declawing wild animals so that humans can treat them like playthings is morally disgusting— which is why PETA worked hard to get the first-ever legal precedent against these pointless mutilations of endangered big cats in the U.S. and why we continue to fight in court against the practice of declawing endangered cats.
So when we saw the video of a man amputating the claws of a lion named Falestine so that she could be subjected to human encounters, we were reminded why this legal work is so important.
⚠️SHOCKING footage revealed: young lioness brutally mutilated!
The owner of the oldest zoo in Gaza allows visitors to play with this lioness & therefore cruelly removed her claws with garden shears! We strongly demand the closure of the zoo! #SaveGazaAnimals pic.twitter.com/t2gJoxKJTB

— FOUR PAWS (@fourpawsint) February 14, 2019
Handlers at the Rafah roadside zoo in the Gaza Strip stated that the facility had Falestine declawed so that visitors could "play" with her. Using a pair of wire cutters and a pair of gardening shears, veterinarian Fayyaz al-Haddad amputated her claws. The process reportedly took two weeks to complete—but will likely result in a lifetime of agony for the animal.
As of now, the mutilated 14-month-old lion still has all her teeth, meaning that encounters with visitors will still pose a great danger to them. Handlers from the roadside zoo also claimed that Falestine's claws could grow back in six months—meaning that she may be subjected to this painful, senseless surgery all over again.
Whether her claws grow back or not, declawing her or any cat is an invasive and extremely painful mutilation. The surgery involves at least 10 separate amputations—not just of cats' nails but also of their joints. Declawing can lead to a lifetime of painful and debilitating complications, including lameness and arthritis. Some animals even die as a result of the procedure.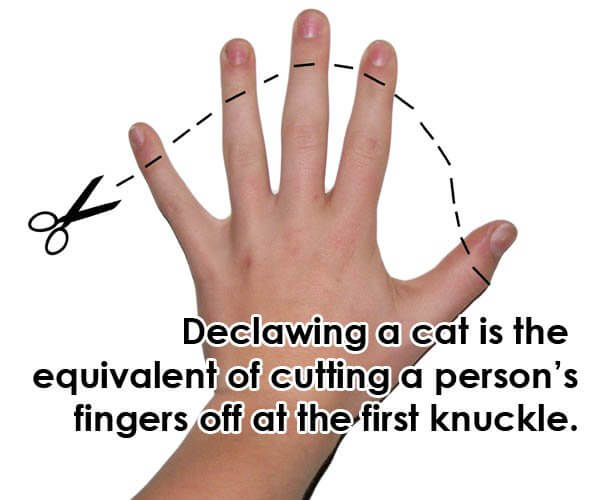 Without claws, Falestine is unable to engage in her species' most basic and natural types of behavior, such as climbing and grabbing food.
Without this essential body part, big cats who are forced to interact with humans have no semblance of a natural life. Lions, tigers, and all other animals imprisoned in roadside zoos have their own interests and would never willingly give up their freedom to let humans gawk at them in a cage or pet them during photo ops.
PETA's Work to Set a Federal Precedent Against These Mutilations
Recently, PETA secured a historic agreed-upon judgment in our federal lawsuit against Rick L. Pelphrey, a veterinarian who illegally declawed lions, tigers, and big-cat hybrids at Wildlife in Need—a roadside zoo in Charlestown, Indiana.
Animals don't want to be in your selfies. pic.twitter.com/48I8j3Yaqe

— PETA (@peta) June 20, 2018
Pelphrey had mutilated at least 12 big cats without providing any of them with pain medication. A U.S. Department of Agriculture inspection report indicated that two tiger cubs had severe complications from the amputations, leaving them bleeding, hesitant to walk, and in apparent pain. Both subsequently died.
The federal court order sets the precedent that declawing endangered and threatened cats when not medically necessary violates the Endangered Species Act.
Save Animals Who Suffer Inside Roadside Zoos
As Falestine's heartbreaking story shows, roadside zoos are still a nightmare for animals—but victory by victory, we will dismantle this cruel industry.
Using our action form at the link below, write to Pymatuning Deer Park and urge the facility to release Bosco—an arthritic bear who is being forced to live alone in a barren concrete pit—to a reputable sanctuary.