Ringling Bros. and Barnum & Bailey Circus will go far and wide to find more animals to exploit. Feld Entertainment, which owns this wretchedly cruel circus, has applied to the U.S. Fish & Wildlife Service (FWS) to import eight tigers and one leopard who are currently being used in a circus in Germany. PETA has submitted comments and extensive supporting materials in opposition to this application, including a statement from a renowned tiger expert.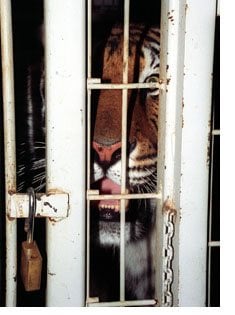 The Endangered Species Act prohibits the importation of endangered species except for "scientific purposes" or to benefit the survival of the species. Hard to make any of that comport with Ringling's desire to haul the big cats around in boxcars and use whips to make them hop on their hind legs.
Federal law also strictly prohibits transporting any endangered species in the course of a "commercial activity," and there is no question that the Ringling Bros. Circus is exactly that. The law further prohibits harming, harassing, and wounding endangered species and requires that they be maintained under humane and healthful conditions. Ringling's well-documented history of animal abuse is clearly grounds to reject its import application, as PETA points out:
In September 2010, inspectors in Sacramento observed tigers in cages without water, food, or enrichment of any kind.
During a 2009 PETA undercover investigation, a Ringling trainer was videotaped beating tigers during dress rehearsals.
According to Ringling's permit application, four tigers have died in the past five years as a result of the circus's activities.
Since 1991, the U.S. Department of Agriculture has cited Ringling for 27 violations of the Animal Welfare Act with respect to the care of big cats, including for allowing a 2-year-old lion named Clyde to bake to death in a boxcar as the train crossed the Mojave Desert as well as for shooting a caged tiger five times with a shotgun.
Please share this troubling information with all the parents you know and urge them never to buy a ticket to Ringling or any circus using animals.
Written by Jennifer O'Connor