When one of Ricky Gervais' young fans tweeted the star with the message "my parents agreed if you retweet this they will buy my sister a dog & let you name it," Ricky agreed but with one important stipulation. "A rescue dog tho," he mandated. We would expect nothing less from the man who is a constant voice for homeless animals, urging people to adopt, never buy, and bashing greedy breeders and puppy mills. And like many compassionate celebrities, Ricky consistently uses his Twitter account to reach millions of people with animal-friendly messages.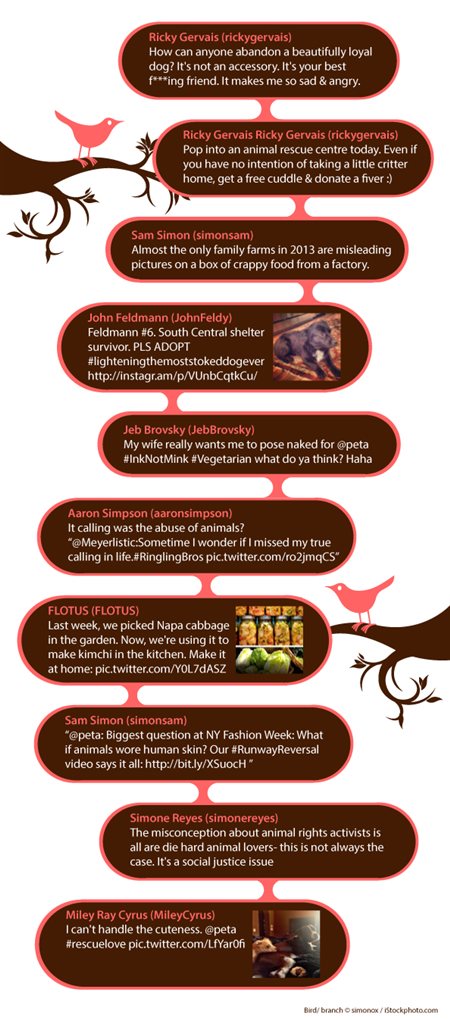 We can always count on Ricky to get an animal rights point across while he's making people laugh. And Jon Stewart did, too, with The Daily Show's humorous coverage of Iran's launching a monkey into space: "Iran, you think the CIA is tough? You just got PETA on your ass, and those guys don't f**k around." We'd love to hear Jon's take on Funny or Die's spot-on spoof of Dodge Ram's pandering "God Made a Farmer" Super Bowl ad, "God Made a Factory Farmer."
And Waka Flocka Flame's hilarious Instagram photo had us laughing at how ridiculous people look in fur: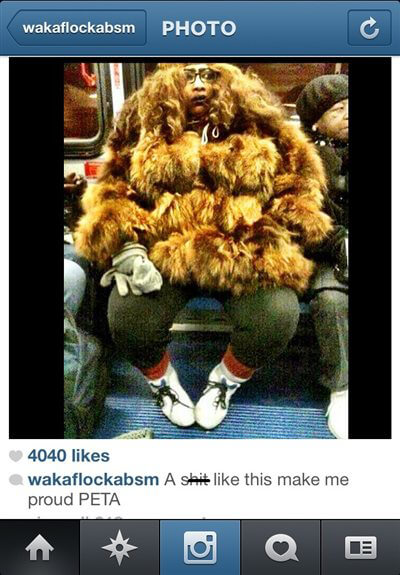 Happily, Beyoncé went fur-free at the Super Bowl, but she draped herself in python skin, iguana skin, and leather instead. PETA is urging the singer to take a cue from other beautiful, talented performers such as Carrie Underwood, who puts on a dynamic show in cruelty-free fashions.
And it was the epitome of a dynamic cruelty-free show when Vaute Couture designer Leanne Mai-ly Hilgart presented the first completely vegan runway show at New York Fashion Week. Celebrities are flocking to the line, which is named after "haute couture" but spelled with a "v" for vegan.
New York isn't the only city celebrating cruelty-free fashion. Across the pond, PETA U.K. presented the first-ever Vegan Fashion Awards, with celeb judges Sadie Frost and Meg Mathews honoring animal-friendly fashion from top designers and retailers such as Stella McCartney, Vivienne Westwood, and Topshop.
To keep up with what all your favorite stars are doing for animals, follow @PETA on Twitter.