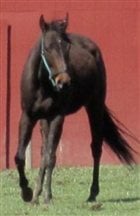 Remember Coming Home, the sweet little thoroughbred who, discarded by the racing industry, wound up in the hands of a kill buyer? She was on her way to a slaughterhouse in Canada when PETA, working undercover at an auction house where hundreds of horses are sold every week, stepped in. Today, she lives on a luxurious ranch in New Mexico—and even though she never won a race, in the eyes of her adoring human companions, she's a champion. She even has a new name to fit her new position in life: Little Winner.
WLKY TV in Kentucky recently visited Little Winner, who pranced in her spacious new quarters, as secure and happy today as she was world-weary in May. Another horse, Georgia's Boy, is profiled in a second installment of the news story. The great grandson of Triple Crown Winner Secretariat, Georgia's Boy's lineage didn't prevent his owner from abandoning him to slaughter. Thousands of thoroughbreds meet the same fate every year. We're working hard to end that, and by clicking here, you can join our efforts.
Every horse deserves to be a Little Winner.