Thoroughbred racehorse Coming Home, the granddaughter of Kentucky Derby winner Unbridled and the cousin of the doomed Derby entrant Eight Belles, was bought by a "meat buyer" at a livestock auction for $200 and was hours from being trucked to a slaughterhouse when a PETA investigator rescued her. Coming Home will at last come to a real—and permanent—home on a PETA member's farm, where she will never again have to fear for her life.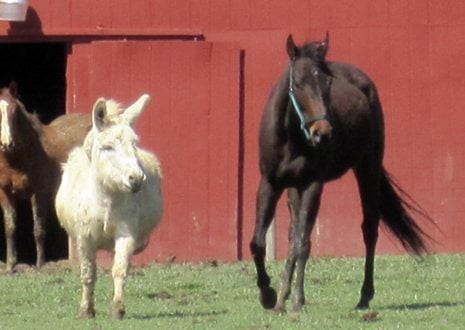 Coming Home relaxes with some friends after her rescue.
Thoroughbred owners and breeders in the U.S. may be thinking about the Kentucky Derby when they bring nearly 30,000 new thoroughbreds into the world every single year. But the derby is a dream. A livestock auction and a bolt through the brain are the reality for 10,000 castoff thoroughbred racehorses this year. Owners who pay exorbitant stud fees turn their backs on horses who are too old or injured to run or who are just not fast enough.
With the Kentucky Derby taking place this weekend, PETA is asking The Jockey Club, which registers all thoroughbred foals, to protect them by setting up a retirement fund called the "Thoroughbred 360 Lifecycle Fund." Owners and breeders would pay a $360 retirement fee for every foal, broodmare, and stallion they register and for every ownership transfer. This would generate more than $20 million every year that would go toward providing a humane retirement for the two-thirds of horses bred who are discarded by the industry.
Please e-mail the Jockey Club and ask that it adopt PETA's retirement plan. If owners and breeders are going to continue to crank out thousands of foals—and rake in millions of dollars off the winners' backs—the least that they can do is put some money aside for the horses who aren't quite fast enough to outrun the butcher.
Written by Michelle Sherrow