For those of us who are proud to share our homes with rescued mixed-breed dogs, referring to them as "mutts" seems a bit, well, undignified (although we adore the rescue-friendly comic strip by the same name). When asked the inevitable question "What kind of dog is that?" the obvious answer is "a shelter dog," but some of us have come up with other creative responses like "sock retriever," "love hound," "bed burrower," "spayed sweetie" or "melting pot mixture." Now we'd like to make it official and come up with a one-word name that celebrates all one-of-a-kind dogs' diversity and uniqueness.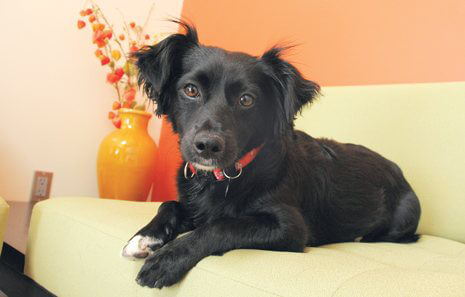 So, please, get with your friends and family and toss some thoughts around as you think of all the shelter dogs you've ever met. The name we pick will be made into a bumper sticker reading, "I ♥ my ______," and will be available at PETA's CaféPress store. 
The person who comes up with the winning name will receive a free sticker and an awesome doggy gift basket, which includes two bags of vegetarian dog food generously donated from V-dog, a beautiful set of doggy dishes and a complementary treat jar from Daisy Dog Studio, PETA President Ingrid E. Newkirk's book Let's Have a Dog Party, and other toys and treats to keep mutts and their humans happy.
To enter the contest, simply post a comment below telling us what name you think makes a great alternative to "mutt," and the commenter with the most creative name will be chosen as the winner.* We'll announce the winner soon and give you a chance to advertise the joys of rescuing (never buying) a proud pedigree-free canine family member.
*The deadline for this contest has been extended from the original date when the contest was launched on August 31, 2011. The new deadline is as follows. Comment submissions for the contest end November 1, 2011; a poll will post on November 29, 2011 on the blog, asking people to vote for their favorite submission. The poll will close December 12th, and the winner will be notified by December 15; and we'll announce the winner and showcase the new bumper sticker by December 30, 2011. Be sure to read our privacy policy and terms and conditions, as you're agreeing to both by commenting. No purchase necessary. Prize subject to change. Void where prohibited by law. Think hard, because if we don't receive any entries we believe are creative enough to use on a PETA bumper sticker, we'll come up with one ourselves and declare the PETA bunny the winner.

Written by Michelle Sherrow