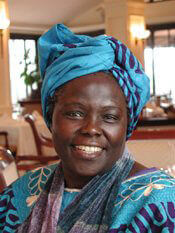 The first African woman ever to receive the Nobel Peace Prize, Professor Wangari Maathai, has passed away after losing her battle with cancer. Recognizing that social progress and environmental protection go hand in hand, she founded The Green Belt Movement in 1977, providing job opportunities to women in rural areas of Kenya who planted millions of trees. We have lost a brave pioneer whose work in behalf of women, human rights, and conservation changed Africa—and the world—for the better.
In a thought-provoking essay that she wrote for PETA President Ingrid E. Newkirk's book One Can Make a Difference: How Simple Actions Can Change the World, Ms. Maathai wrote about the satisfaction that comes from knowing that you have made a positive impact:
Conviction, vigilance, preparedness, confidence, imagination, these are some of the traits that bring victory, and victory brings great joy. As do your accomplishments, especially accomplishments that are likely to outlive you. These are accomplishments that will testify to your belief and your faith long after you're gone. If you believe that you have improved the situation for the better, this makes you feel that life is worth living.
To read Ms. Maathai's entire essay, along with more than 50 other inspiring essays by people who have positively impacted the world in all sorts of interesting ways, read One Can Make a Difference. In memory of Ms. Maathai, let us all resolve to do whatever we can to accomplish changes that will outlive us. Even an incremental change—like helping pass a fur ban or convincing a company to stop testing on animals—can have a lasting impact.
Written by Lindsay Pollard-Post