For its 200th episode, the popular HBO sports show Real Sports With Bryant Gumbel delved into the world of live-animal mascots. PETA's vice president of communications, Lisa Lange, was interviewed to discuss PETA's stance and efforts to end the use of live animals as sports team mascots.
If you have HBO, please tune in and then go to HBO's website and leave comments.
Animals don't belong in a sports stadium. Costumed human mascots can lead cheers, react to the crowd, and pump up the team—all things that a frightened animal cannot do. We can never replicate a tiger's natural habitat, and hauling big cats like Tom the tiger, held captive and alone in a glass enclosure, to games week after week is a throwback to a much less enlightened time.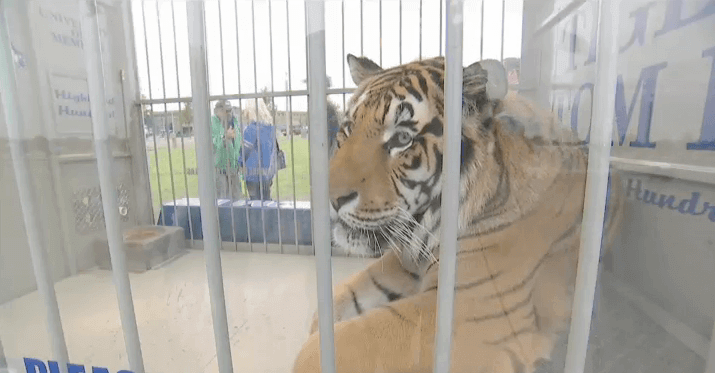 The Real Sports With Bryant Gumbel "College Mascots" episode will be available on demand as well as rebroadcast for the next month on HBO. Please check your local listing guide for air dates and times to tune in. Be sure to spread the word to educate friends and family, too—with the help of PETA supporters like you, sports fans everywhere can become more aware than ever that animals belong in the wild, not on a sports field.
Be sure to weigh in with your comments on the HBO Real Sports forums. Join the conversation on Twitter by tweeting @HBO and using the hashtag #RealSports, and connect with Real Sports on Facebook.
Want to take further action? 
Please write to schools that still use exotic animals as mascots. Ask them to send the animals to an accredited sanctuary. If you are a student or a graduate, inform your alma mater's officials that you will not attend athletic events or donate money—both huge sources of universities' revenue—until they discontinue their live-animal mascot program.