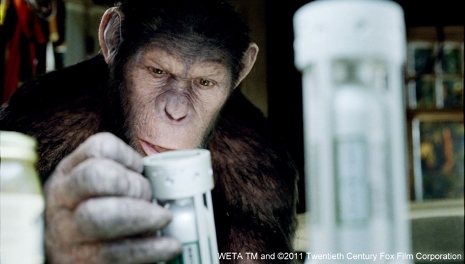 What inspired the makers of Rise of the Planet of the Apes, which opens in theaters everywhere today, to create what MTV calls "perhaps the most expensive PSA against animal testing ever filmed"? The film's writers and producers, Rick Jaffa and Amanda Silver, told us in this exclusive interview about the real-life apes who convinced them that their story must be told:
How did your involvement with this movie come about? 
Rick had clipped out news articles about chimps raised in human homes and wondered if there was a good story there for a movie. After staring at the articles for a while, he realized that he was looking at a reboot idea for "Planet of the Apes"! We took the idea to Fox and that was the beginning.
Were you aware of the various ways in which great apes are mistreated by humans before you started work on this script? Did you learn anything that really opened your eyes about this issue while doing your research for the film?
Before we started writing the script, we did a lot of research about great apes and chimpanzees in particular. And yes, we were absolutely horrified by the various ways in which great apes are mistreated by humans. As our story came together, it was informed by this information, which indeed helped us galvanize the entire plot.
As you were working on the script, were you concerned that the studio might elect to use live apes for the production? How did you handle that issue?
From the very beginning, we knew that live apes could never be used in the making of this movie—it would be going against one of the major themes of our story. Much to our relief, everyone was on board with this point of view—[Director] Rupert Wyatt, Peter Chernin, and Dylan Clark (our producing partners), as well as the executives at Fox.
Do you feel that technology has gotten to the point where Hollywood can now use computer-generated imagery (CGI) instead of wild animals on set?
We are extremely excited about the fact that technology is getting to the point where Hollywood can rely on CGI instead of real animals on sets. And this technology is quickly improving. It's only going to become more efficient and affordable over time.
What do you feel this film says about humankind's relationship with animals? What are you hoping that people may take away from this film?
Our central theme was always that man's hubris could lead to his downfall—that man should not play God. This obviously extends to his relationship with animals. James Franco's character—and his incredibly nuanced performance—underscores the notion that abuse can sometimes happen even with the best of intentions.
What projects are you working on next?
We've just turned in a film re-write for a big time-travel action movie at Sony. We're currently pitching television ideas that we're very excited about.
Written by Alisa Mullins