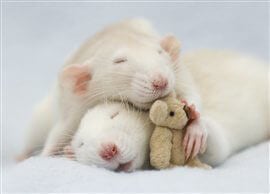 © Jessica Florence
A new experiment has once again shown that rats in laboratories have empathy for one another. In the experiment, one rat was placed in a cage with another rat who was stuffed into a tiny tube from which he or she was unable to escape. The "free" rat worked frantically to get his or her distressed friend out, even when a tempting chocolate treat was offered as a distraction.
This is far from the first time that altruism has been seen in animals used for experimentation. In one notoriously cruel experiment, macaque monkeys were given food only if they pulled a chain that electrically shocked another monkey. Nearly all the monkeys preferred to go hungry, and one macaque starved himself for 12 days. Monkeys who had previously been shocked were even more reluctant to pull the chain and subject another individual to such punishment. In PETA President Ingrid E. Newkirk's book The PETA Practical Guide to Animal Rights, she quotes astronomer Carl Sagan, who asks, "If the circumstances were reversed, and captive humans were offered the same deal by macaque scientists, would we do as well?"
Millions of kind, intelligent rats and other animals are poisoned, blinded, and killed every year in cruel experiments. You can show your empathy by clicking here to urge members of Congress to amend the Animal Welfare Act to include the protection of both rats and mice. Also, please only support companies and charities that don't test on animals.
Written by Monica Alexander