Most horses kept for breeding are kept in barren stalls like these.
vet.uga / CC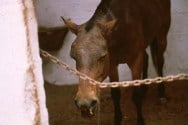 Full disclosure: I am a sucker for horses. Just watching them run makes me cry. Seriously, it does. That video clip that was shown in Amélie, in which an excited horse leaps over a pasture fence and joins passing Tour de France cyclists? I cry just thinking about it—shoot, I'm crying right now!
So you can imagine my reaction to the news that Thoroughbred breeder and owner Ernie Paragallo has been charged with cruelty to animals after 177 horses were allegedly found starving, suffering from skin infections and untreated injuries, and crawling with lice and worms on his New York state farm. The raid on the farm came shortly after news leaked out that four mares who formerly belonged to Paragallo had been rescued from a "kill pen," bound for the slaughterhouse. PETA called for his prosecution soon after this hit the news.
This isn't the first time that Paragallo has run into trouble. In 2007, three starving horses were rescued from his farm and spent a month recovering at an equine hospital. In 2005, his owner's license was revoked over his failure to pay a vet bill.
In my opinion, hangin's too good for Paragallo. This man has raked in more than $20 million in winnings over the years—and he can't spend even a fraction of that wealth on care for the horses who earned it for him?
Fortunately, the cruelty charges, coupled with the slaughterhouse boondoggle, seem to have been enough to convince the New York State Racing Commission to bar Paragallo from the state's tracks. This means that Paragallo will almost certainly be unable to enter a horse in the state's "big show"—the Belmont Stakes—in June.
Boo-hoo. (That's sarcasm—I'm not really crying this time.)
Written by Alisa Mullins