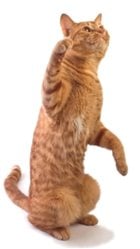 © David Thompson/
iStockphoto.com

Even while admitting to myself that I was probably well past the target age for Puss in Boots, I couldn't resist the allure of the swashbuckling, lady-killing feline hero. I wasn't disappointed. This movie has plenty for young and old alike, from madcap adventures to the hilarity of Antonio Banderas' smooth, romantic voice purring out of a tiny cat.
But the "legendary lover" has a softer side, which we get a glimpse of when his love interest, Kitty Softpaws, sorrowfully confesses that her claws were taken from her by a family she had thought loved her. Her emotional retelling of the story elicits sympathy from both Puss in Boots and the audience and will likely make people think twice about amputating their own cats' toes.
Kitty Softpaws has learned to make her misfortune work to her advantage as a cat burglar, but as the film makes clear, unless Fluffy's future plans involve a magic-bean heist, her claws belong right where they are meant to be: on her feet!
Puss in Boots is a delight for kids and for adults, who will chuckle at some of the kids-would-never-get-that jokes, and it's a must-see for anyone considering robbing a beanstalk—or a cat of his or her claws.
Written by Michelle Kretzer