Designer and Project Runway star Michael Kors recently pacified representatives from the Humane Society of the US by agreeing to stop using raccoon dog fur in his clothing lines. Unfortunately, Kors is turning a blind eye to the suffering of the countless other animals he still uses for their fur. It won't result in fewer animals dying—just different animals dying. This "pledge" to not use the fur from just one species completely ignores the simple fact that millions of other animals, including foxes (also members of the canine family), are beaten, strangled, anally or genitally electrocuted and skinned alive for their fur. I'm sorry, but this step just isn't enough, especially given that so many top designers—including Tommy Hilfiger, Ralph Lauren, Calvin Klein, Stella McCartney, Betsey Johnson, Marc Bouwer, Rebecca Taylor, and Kenneth Cole, to name just a few—are totally fur-free.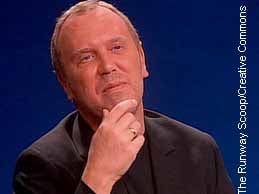 As you probably know, we are all about rewarding companies for taking incremental steps forward. This, however, is not a step forward. Fur is the one issue where there is no middle ground, and the reality here is that this will do absolutely nothing to stop animal suffering overall. Michael Kors' PR director confirmed to us yesterday that the "MICHAEL" Michael Kors label may in fact still include the fur from other species (as will all other Kors labels).
Well, we're not willing to take the scraps that Michael Kors is throwing out. It is the year 2007 and it is high time that Kors stops using all fur for good. Please help convince him that there is simply no excuse for using any fur at all by taking action here.
And here is the letter PETA prez Ingrid Newkirk fired off to Kors yesterday.
Dear Mr. Kors:

The bone that you tossed to The Humane Society about dropping raccoon dog and raccoon fur may have pacified Humane Society CEO Wayne Pacelle, but it leaves a bad taste in our mouths. As you know, there's not a lick of difference between beating and skinning live raccoon dogs and doing the same to foxes, who are also members of the canidae family. The rest of the animal protection community knows that when it comes to feeling the pain of being beaten, strangled, genitally electrocuted, and skinned alive, a raccoon is a coyote is a fox is a mink.

To PETA, it isn't whether or not the animal looks like a raccoon or barks like a dog—suffering is suffering. Foxes, too, have central nervous systems, as do the minks who have their necks broken for your "coffee mink tunic dress."

Having met with your team twice—including your head designer—and shown them a video that reveals the horrific suffering endured by animals used for fur, we are sure this must not have trickled down to you. I urge you to take five minutes to watch this exposé of the fur trade, which is narrated by Martha Stewart, who had a change of heart herself about fur. I think it might help you understand why removing fur from one fur-bearing animal in your collections and replacing it with another is totally unacceptable.

Top designers including Tommy Hilfiger, Ralph Lauren, Calvin Klein, Stella McCartney, Betsey Johnson, Marc Bouwer, Rebecca Taylor, and Kenneth Cole have all chosen to take a compassionate stand and rid their lines of fur—or have never used fur at all. We call on you now to do the same.

Sincerely,

Ingrid E. Newkirk
President
PETA