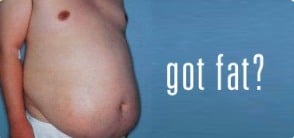 Because milk doesn't actually help you lose weight, which makes the ads ("Milk your diet. Lose weight!) just a teensy bit misleading. Here's how it went down, according to The New York Times: The ads, which were overseen by our old friends the USDA (whom you may remember from such hijinx as failing to enforce their animal welfare regulations and having lousy, inadequate regulations in the first place) made claims such as that three servings of dairy products a day can help people stay thin, and featured celebrities such as Yankees superstar Alex Rodriguez to help promote those claims. But, two years after the Physicians Committee for Responsible Medicine petitioned the F.T.C. to argue that the ads were misleading (on the grounds that there's just no substantial scientific evidence for the claim), the Dairy Council has decided to withdraw the ads "until further research provides stronger, more conclusive evidence of an association between dairy consumption and weight loss." Here's what PCRM's president, Dr. Neal Barnard had to say:
"I think people will start to recognize that the dairy industry, which used to have a mom-and-pop image, is a huge commercial entity that will exaggerate to sell its products."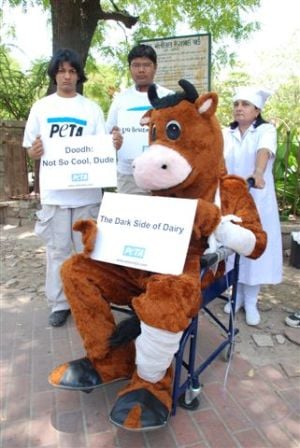 This isn't the first case of misleading ads from the Dairy Industry. You may remember the "Happy Cows" ads from the California Milk Board, which had the tagline "Great cheese comes from happy cows" and the insidious implication that the living conditions for California's dairy cows made them happy—which is like saying that Abu Ghraib was a five star hotel. Though PETA sued the Milk Board in that case, it was eventually decided that the state is exempt from its own false-advertising laws, so the ads were allowed to stand. I'm not even kidding. As you can imagine, watching the Dairy Industry finally being held accountable for its misleading advertising is immensely satisfying. Let's hope this trend continues.