A protest held by PETA, Animal Concerns Puerto Rico, and the Puerto Rico Committee for Free Dolphins against a proposed San Juan, Puerto Rico, dolphinarium went swimmingly as dozens of supporters came out to explain why the facility would be bad for dolphins and the city.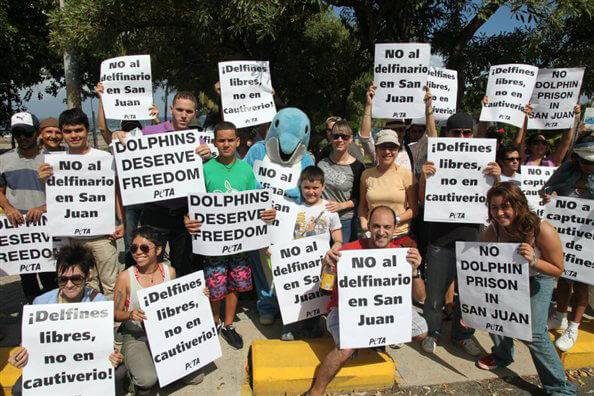 Photo: El Comité por Delfines Libres de Puerto Rico
The facility would purportedly use the dolphins to work with children with disabilities, including autism, but San Juan's mayor and other proponents ignore the fact that dolphin-assisted therapy has been discredited, with experts calling it downright dangerous. Who wants to risk having their child sexually molested by a randy dolphin?
Meanwhile, countless studies show that confining highly social, intelligent dolphins to cramped concrete tanks is akin to torture for them. Glen Venezio, who helped organize the protest, urged the city to embrace "the concept of live and let live. Leave the dolphins alone, in their ocean world where they belong." PETA supplied the local group with posters and other materials for the protest.
If your city has a marine mammal park or zoo, if you learn about an event featuring animals as prizes, or if there's any other situation harmful to animals in your community, contact PETA's Action Team to get help organizing a local protest or outreach. E-mail [email protected] or click here to join the Action Team and receive e-mail updates about events in your area.