I honestly can't tell who's more stunning in PETA Europe's new anti-fur ad—Topsy, or Natalie Imbruglia! I mean, sure, Natalie's gorgeous, but Topsy has such fluffy ears ….
Really, though, "Torn" artist Natalie Imbruglia really shines in her new ad, which points out that even a "little fur trim" is the product of an industry that skins animals alive.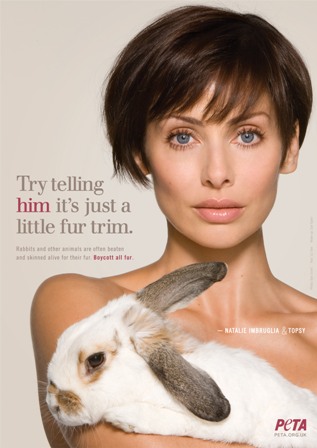 "There is no kind way to rip the skin off animals' backs. In the wild, animals are caught in snares and steel-jaw traps that slam down on their limbs—they often cut down to the bone and mutilate animals' legs and paws," Natalie says—and that kind of torture is a part of every piece of fur we see. Natalie continues, "Anyone who wears any fur shares the blame for the torture and gruesome deaths of millions of animals each year."
This isn't the first time Natalie has spoken out against fur, by the way. In 2005, she told Cosmopolitan just how she felt about fur when she shared her opinion of furry Jennifer Lopez. Oh, Natalie, you took the words right out of our mouths!
So when you go shopping for that new winter coat, don't forget to make sure that all the trim is totally faux—and you can check out PETA's Shopping Guide to Compassionate Clothing for some great cruelty-free resources. Topsy will thank you for it!
Written by Amanda Schinke