PETA U.K.'s dead-serious anti-obesity billboard is stirring up some weighty controversy: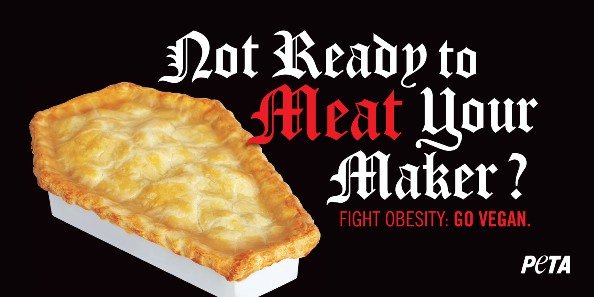 PETA U.K. erected the billboard near a new mortuary in Gloucester built especially to accommodate obese corpses. Oddly, the U.K.'s National Obesity Forum labeled the ad as "irresponsible," although the group didn't say what exactly it objected to. We're not sure why an obesity-awareness group would take issue with a billboard that aims to help people deal with obesity pre-coffin, but protesters ripped down part of the sign (unhelpfully revealing an ad for chips—or French fries to us in the U.S.).
Isn't an obesity-awareness group's protest of an obesity-awareness sign somewhat akin to Shopaholics Anonymous holding meetings at the mall?