Those jaw-dropping wildlife photos on calendars and websites may not be as authentic as they seem. More than likely, those shots weren't captured in the savannahs of Africa or on the heights of the Himalayas but at places such as Montana's Triple D Game Ranch, which keeps wild animals in cages and rents them out for photo shoots and other uses.
Recently, Triple D was issued a warning by the USDA for violating the Animal Welfare Act by illegally declawing a tiger—a procedure ordered by Triple D's owner because he wouldn't work with a tiger who has claws. Now, Triple D wants to renew its permit to breed endangered big cats, and PETA is urging the U.S. Fish and Wildlife Service to deny Triple D's renewal request and instead issue penalties. Harming endangered species is strictly prohibited by the Endangered Species Act, and declawing is an unnecessary, painful amputation that clearly harms tigers, just as it does domesticated cats. It frequently leads to painful and crippling conditions such as lameness and arthritis.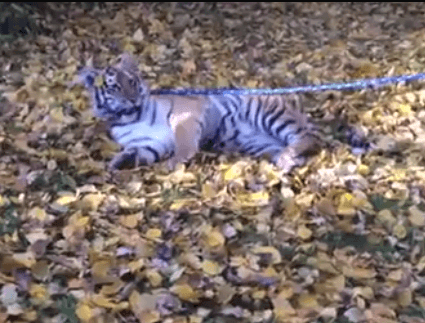 Endangered species breeding permits may be issued only when applicants document that their activities will enhance propagation or survival of endangered species and that the principal purpose of captive breeding is for conservation—which Triple D has totally failed to do. It's clear that Triple D wants to breed animals for one reason only: the hefty profit that it makes by renting them out as photo props.
Game ranches, like roadside zoos, are hellholes for animals who are bred and used to turn a profit. People who care about animals should avoid gimmicky wildlife attractions such as roadside zoos and "photo-ops" with captive animals.