Fans across the country can't get enough of Game of Thrones, but the show has sparked an alarming trend: an increased demand for huskies because of their physical similarities to direwolves. Adoring viewers are buying the dogs from pet stores and breeders (often naming them after their favorite characters), then—after realizing how much work and commitment are required to care for them—dumping them at shelters already bursting at the seams with homeless dogs. SPOILER ALERT: Fans who are caught up on the show know that Tyrion—played by Peter Dinklage—has been giving Dany sound advice as her Hand to help her conquer Westeros, and now Dinklage is teaming up with PETA to remind potential guardians to be prepared to care for dogs for a lifetime when expanding the family and to adopt—never buy.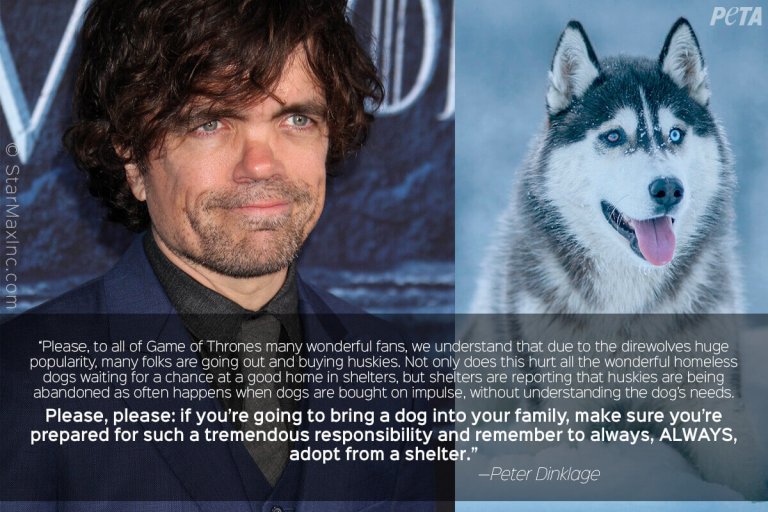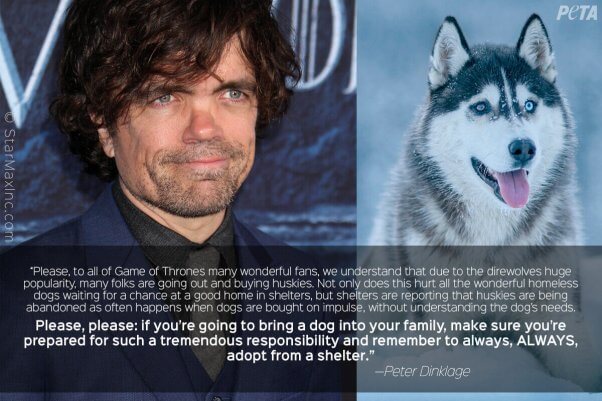 This isn't the first time that a popular TV show or movie has led to an increased demand for the animals seen on screen. 101 Dalmatians, Beverly Hills Chihuahua, Legally Blonde, and Men in Black all caused massive spikes in sales of the featured dog breeds, and many of these dogs were later abandoned at shelters by their ill-prepared guardians.
More than 6 million dogs and cats end up in animal shelters every year, and half of them are euthanized because there simply aren't enough homes for them. PETA encourages everyone to adopt—never buy from breeders or pet stores, which contribute to the overpopulation crisis.
Dinklage, a longtime vegetarian who previously teamed up with PETA for a video about the meat industry, is part of a long list of celebrities—including his Game of Thrones co-star Lena Headey, Andy Serkis, Bryan Fuller, and Gillian Anderson—who have worked with us to promote kindness to animals.
What You Can Do
Always adopt, and tell everyone you know to do the same. Make sure you're ready to be a dog guardian before making one of the most important decisions of your life, and then search Petfinder. Help dogs by not buying them and not adopting them on a whim.