In response to Kage Games' repulsive Dog Wars game in Google's Android app market, PETA has released our own free iPhone app today.
The PETA app features an up-to-date list of PETA's action alerts (including our alert demanding that Google remove the Dog Wars Android app). After participating in an alert with a few simple keystrokes, users can share the link with their friends and urge them to take action. You can earn points for every alert you participate in, every time you share the alert with friends, and every time you donate. The points go toward your "PETA Rank" and earn you badges like Private Penguin, Lieutenant Llama, Colonel Chicken, and beyond.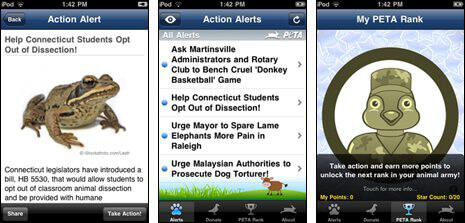 You can get our app free at the Apple iTunes Store, and try it out by helping to put an end to that other app. Your dog will thank you.
P.S. If you like our app, please rate it with five stars. If you don't like our app, click here.

Written by Michelle Sherrow