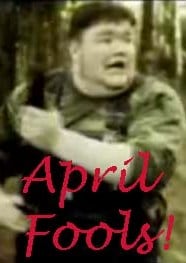 Well, in case anyone caught yesterday's post about the camouflaged deer, you will probably have guessed by now that it was a little bit of April Fools shenanigans at the expense of some poor, unsuspecting hunters. I left the bait on a number of different hunting and fishing message boards in the morning, and by Sunday afternoon they were nibbling like mad. There were a bunch of priceless comments, but this was one of my favorites (posted by someone with the shockingly apt moniker "Speaking for All Hunters"):
I bet that I am smarter than most camouflage painting morons. I mean a deer thrives by smell, those deer are gonna be running scared to death for days from smelling the paint.
To be fair to the hunters, one or two of the smarter ones did catch on early, and a few were even good-humored enough to comment later to admit that they'd been had. Just for the record here, there's no such group as HIDE (Hunting Is Downright Evil), but if anyone wants to start one, you've got my endorsement. Anyway, I hope everyone had as much fun as I did with this one!
P.S. If you just can't get enough of PETA April Fools Day hijinx, check out #79 on this list of the Top April Fools Day Hoaxes of All Time.