Aaaaaand liftoff: peta2's brand-new website has launched! As an animal rights group for young people, peta2 shows Gen Zers how helping animals is something we can all do at least three times a day, every day. With opportunities to help people choose to live compassionately and a one-stop shop for all things animal rights, the site offers new merchandise, including a tee featuring peta2's adorable mascot, "Not a Nugget." You can also spot him on the new sticker sheet below: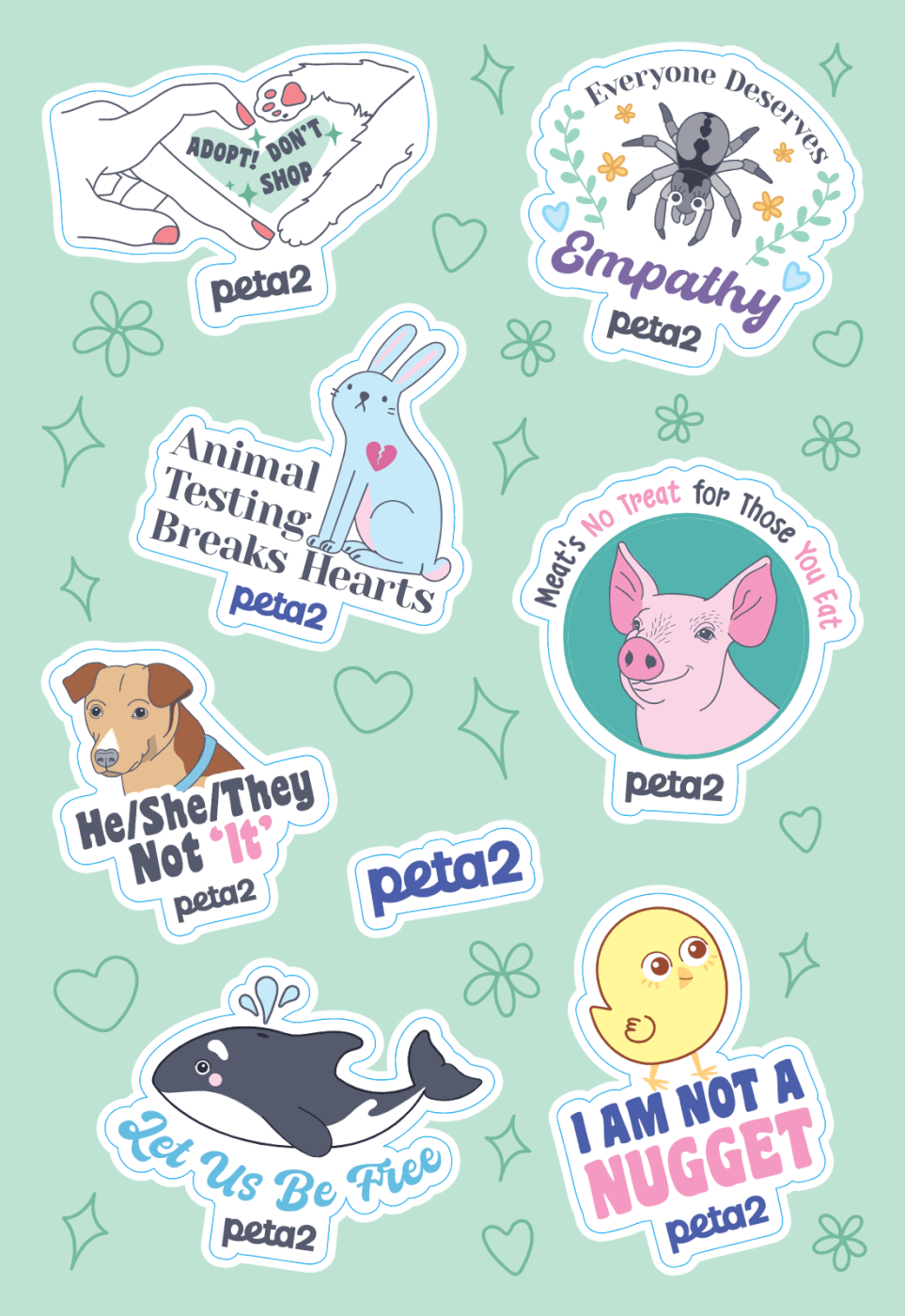 Why a New peta2 Is Launching Now
Gen Z and Gen Alpha have serious concerns about the current climate. Overwhelmingly, young humans care about our fellow animals and animal rights, but they're living in a world filled with uncertainty, which can leave them feeling powerless or exhausted. But peta2 is here to help!
Eating vegan meals and making sure our choices align with our beliefs are empowering, positive ways to make a difference. The new peta2 website and social media channels are filled with positive content that helps young people achieve these goals, such as information about cruelty-free skincare routines and cosmetics plus shopping guides for prom that don't harm animals. You'll also find contests involving favorite compassionate brands and content from bands and other celebs and influencers who care about animals, along with many meaningful ways to take action for our fellow Earthlings.
A Deeper Dive Into peta2
All animals, including humans, are individuals who want to feel safe, loved, and comforted. peta2 highlights this reality in an upbeat way for young audiences, helping them understand that we're all the same in the ways that matter most. peta2 believes that it's speciesist and wrong to hurt animals, who aren't test tubes, dinner, clothing, entertainment, or anything else for humans to use. The group helps people go vegan and empowers today's younger generations to live kindly.
The campaign goals of PETA and peta2 are the same, but the latter exists to reach young people by focusing on empowering, positive content about animal rights and following a vegan lifestyle, which affords students a break from the anxiety-inducing news they are often inundated with during daily life.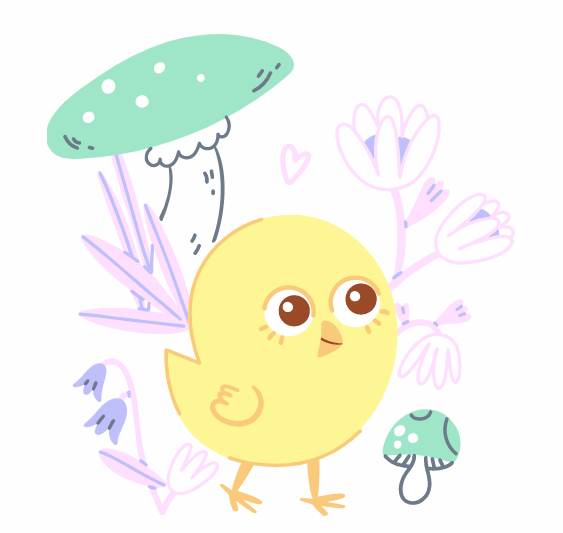 Helping students learn more about animal rights issues and teaching them how to take action for animals at home and in school, peta2 is honoring today's students and the culture of self-care.
Staffers and young people, including PETA's student interns, are writing and curating content in a "big sibling" voice, encouraging young people to be part of the vegan movement. peta2's social media pages and website feature individuals who help connect with young people on a more personal level.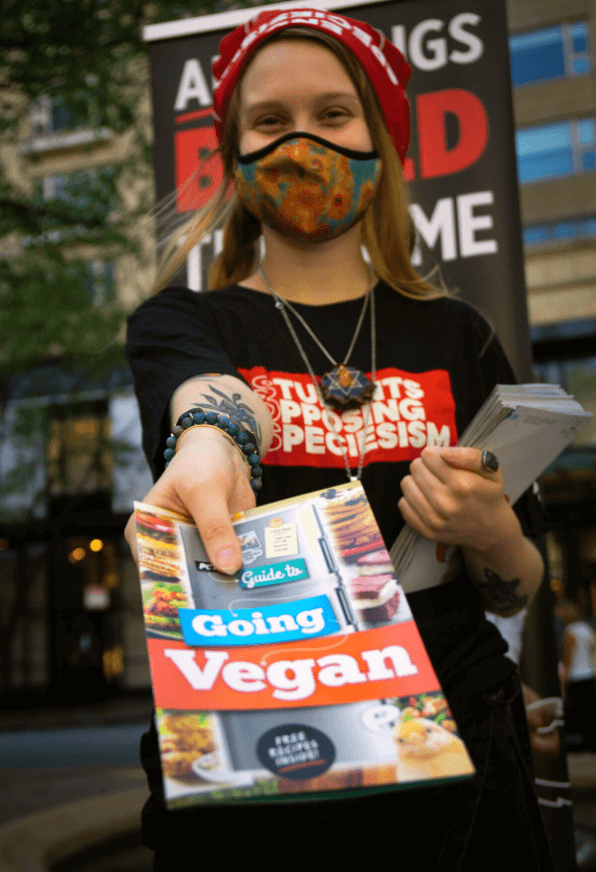 How peta2 Inspires Students in Troubled Times
Many people in peta2's demographic are just starting out in animal rights or are curious about making changes to help animals. That's why peta2 provides compelling, nongraphic, relatable content using emotional images of animals to instill empathy. peta2's Students Opposing Speciesism (or "SOS") program remains the primary home for students who are more established in their activism and ready to plan protests and demonstrations, start animal rights clubs at their schools, and take other actions for animals.
Due to the COVID-19 pandemic, young people are struggling with higher rates of depression from lockdowns. They also live in fear of school shootings and the climate catastrophe. Students can connect with peta2 and take part in simple online actions to see that they are important and can have a positive impact on the world. For young people who want to hit the streets for animal rights, peta2 also offers paid internships, paid campus rep opportunities, and more.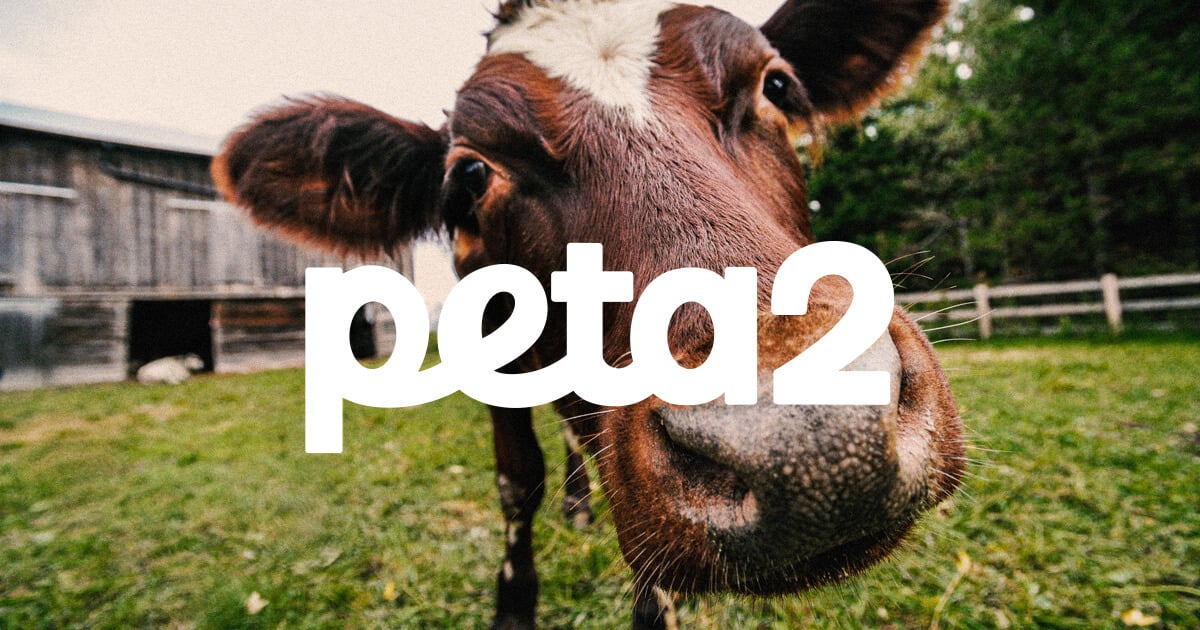 © Jo-Anne McArthur / We Animals Media
Take the First Step: How to Get Involved With peta2
Making a difference and taking action for animals start with that first step of getting involved.
Order some new FREE stickers below, sign up for e-mails, and follow peta2 on Instagram and TikTok for exclusive content, contests featuring giveaways of products from your favorite brands, news about animal-loving bands and other celebs, and plenty of ways to help animals!