PETA entities worldwide put their money where their mouths are—or, rather, put their donors' money where the animals' mouths are, to spare animals from being force-fed and otherwise poisoned with toxic chemicals in experiments. PETA entities have now provided more than $1 million to fund the development and implementation of non-animal research methods.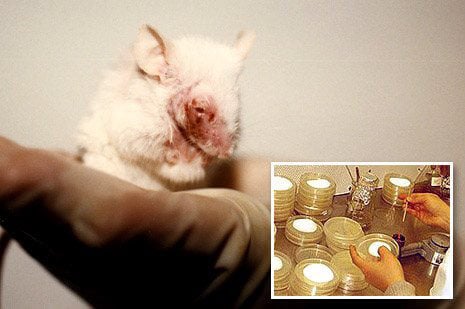 Testing doesn't need to involve torture.
One recent recipient of a grant provided by PETA through the generous support of the McGrath Family Foundation is the International QSAR Foundation, which is developing sophisticated computer models that can replace the use of animals for carcinogenicity testing. In experiments to test the cancer-causing potential of a single chemical, more than 400 animals are forced to ingest chemicals for one to two years before they are killed.
PETA U.K. has also provided funds to support skin irritation testing methods that don't use animals. The PETA U.K.–funded method is now accepted for use internationally in place of painful tests on rabbits. PETA U.K. is now funding research to validate non-animal skin allergy tests, which are commonly performed on guinea pigs and mice to test cosmetics and other chemicals. This breakthrough is especially timely since beginning in 2013, cosmetics that have been tested on animals cannot be marketed in the European Union.
Tim Mitchell, president of CeeTox, Inc., says:
This donation is important because it puts PETA entities in a unique position of not only championing the need for new non-animal tests but also providing money to help make it happen. It sets a good example for others to follow …
Even in these economic hard times, it is critical that we continue funding the development of non-animal testing methods as a sure-fire way to get animals out of laboratories. If you would like to contribute to this effort, you can target your donation here.
Written by Michelle Sherrow