In the wake of a series of deadly bomb attacks in Mumbai, PETA India, which is headquartered in the city, has been out searching for animal survivors since yesterday. On Wednesday evening, blasts in crowded commercial and residential areas of Mumbai killed at least 21 people and left 120 others injured. But so far, no injured animals have been found. PETA India staffers have been talking to security personnel and citizens, although many of the hardest-hit areas have been cordoned off. Complicating the situation are heavy monsoon rains that have likely driven most animals to seek shelter and hide.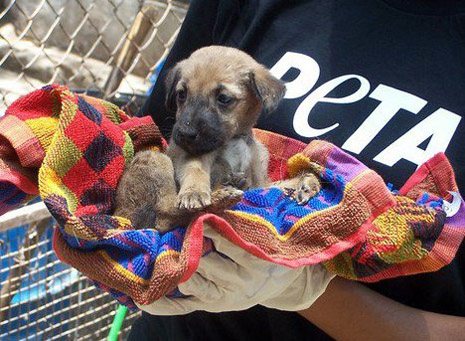 PETA India is reaching out to people through Facebook, Twitter, and media outlets, asking anyone who sees an injured or distressed animal to call the group's hotline, the Bombay SPCA, or a local veterinarian. PETA India staff will be available around the clock to pick up any animal affected by the bombing.
Every day, animals suffer in disasters around the world. To help provide emergency care, consider a donation to PETA's Animal Emergency Fund.
Written by Michelle Sherrow