© Star Max Inc.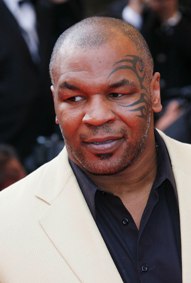 "Ready …
Set …
Um, never mind …"
It seems quite possible that Animal Planet's upcoming reality series starring Mike Tyson might be knocked out of production. (Join us in our sorrow—not.) PETA has identified what might be a fatal flaw in the very premise of Taking on Tyson, which is scheduled to begin filming in Brooklyn next month. See, while pigeon racing is cruel to birds no matter where it takes place, in New York state it's also very likely illegal.
Our letter to Charles J. Hynes, Kings County district attorney, points out that gambling is generally prohibited in New York state—as are races using animals other than horses in which any bet, stake, or reward is involved. Translation: When it comes to racing pigeons in Brooklyn, all bets are off possibly illegal. What's more, trainers are prohibited from making money off such races, and this rule might very well apply to any compensation that Tyson is receiving from Animal Planet.
Considering its inherent cruelties, there's no question that pigeon racing should be illegal. Birds who are forced to race often struggle to survive extreme heat, hail, and thunderstorms, dodging both predators and cruel humans through grueling races that can be as long as 500 miles. Those who somehow do not succumb to exhaustion or injury and make their way home may still have their necks wrung by unsatisfied trainers.
Take a minute to write Animal Planet and politely let the network know that while you love shows like Whale Wars and Animal Cops—programs in which people go to bat for animals—a program in which people bet on cruelty is a bad hand for everyone.
Written by Shawna Flavell