The "work" of Christine Lattin—who for nearly a decade has been trapping wild songbirds and subjecting them to painful and traumatizing chronic-stress studies—is receiving some much-deserved opposition.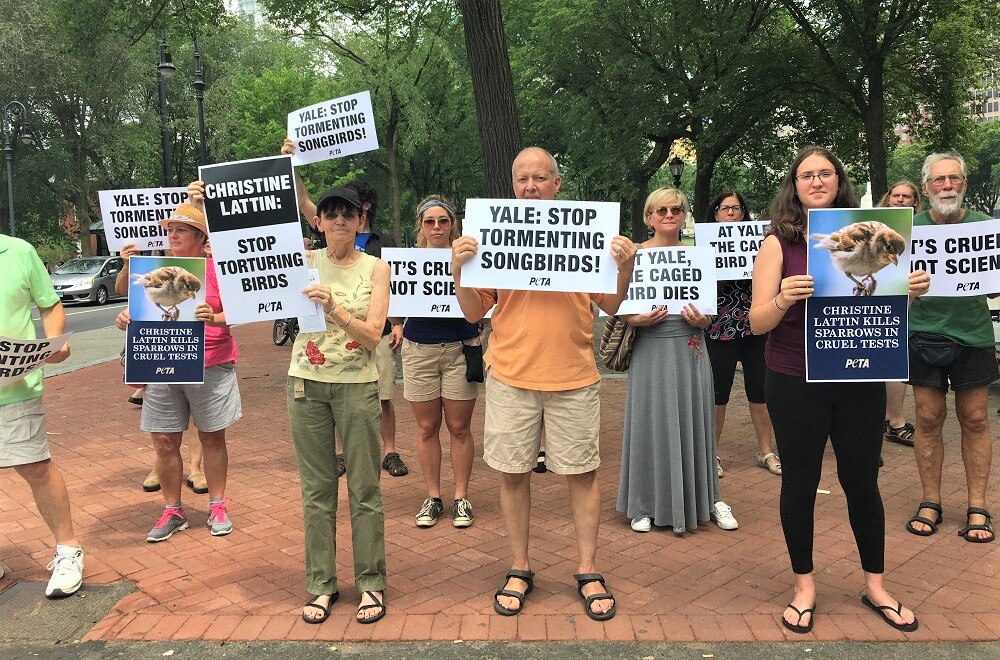 PETA supporters holding signs proclaiming, "Christine Lattin Kills Sparrows in Cruel Tests," protested at a busy intersection near Yale University's campus to denounce the postdoctoral student's abuse of birds.
It's Cruelty, Not Science
Since 2008, Lattin has been tormenting and killing wild birds in experiments that are meaningless to conservation efforts, to humans, and even to other birds, since species vary widely in their physiological responses to chronic stress.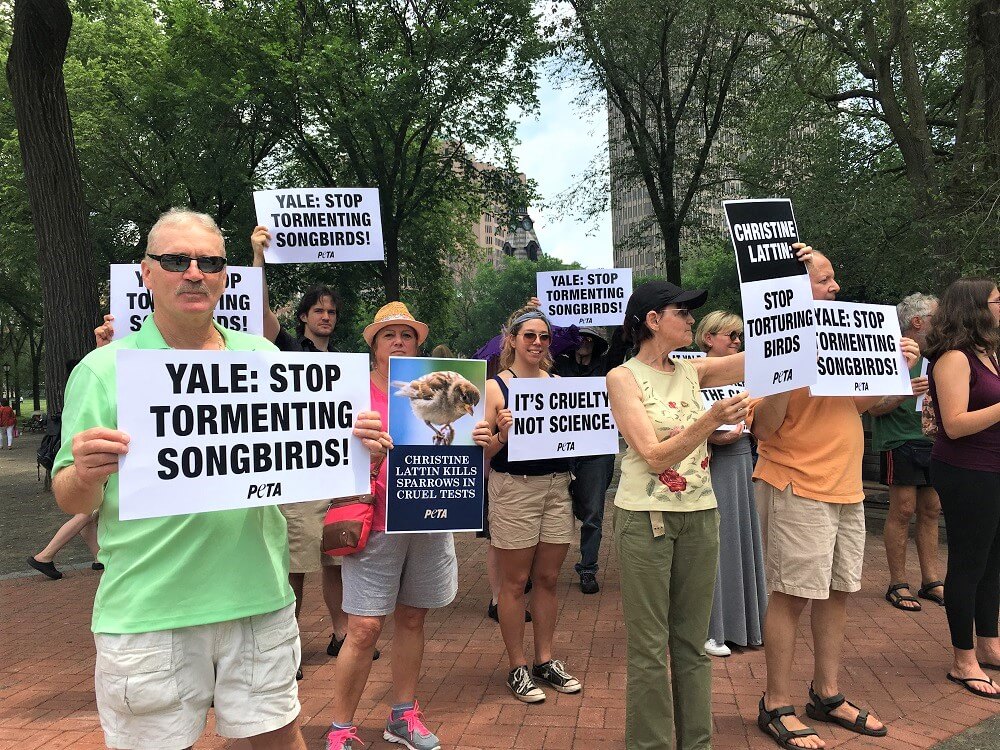 Published papers and records show that some of Lattin's tests have included injecting sparrows and other birds with chemicals to destroy their adrenal glands, using a biopsy punch to inflict wounds on birds' legs without painkillers, rattling birds' cages, and feeding sparrows crude oil–laced food. At the experiments' end, the birds were killed.
Last month, PETA supporters rallied outside a Society for Behavioral Neuroendocrinology conference in Long Beach, California, where Lattin was presenting her work.
#LongBeach: PETA supporters outside #SBN17 conference call on @Yale to STOP torturing birds in cruel experiments. https://t.co/SoKIRQrrnW pic.twitter.com/p7cRNchHdj

— PETA (@peta) June 15, 2017
PETA has also filed a complaint with the district attorney in Massachusetts (the state where Lattin began her experiments) requesting that cruelty charges be filed against the experimenter for the unjustifiable traumatizing and killing.
Don't Allow This Senseless Cruelty to Fly
PETA is calling on Yale University to shut down Lattin's sick little laboratory. Please add your voice to the conversation and urge the school to stop supporting these experiments.