After the latest in a long, sad parade of attacks on humans by frustrated captive animals, PETA is submitting a complaint to the federal Occupational Safety and Health Administration (OSHA) asking for an investigation and, if appropriate, citations. Benjamin Cloutier, 24, died after being mauled by two captive-bred grizzly bears in their enclosure at Animals of Montana, owned by Troy Hyde, which provides wild animals for photo shoots and film and television productions.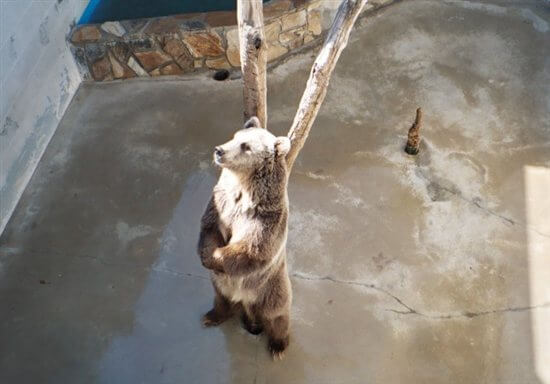 Humans, Wildlife, Cages, and Neglect: A Formula for Disaster
Direct contact between humans and wild animals kept in captivity is a known safety risk, as reflected in the string of prominent incidents involving captive animals, including bears, chimpanzees, elephants, and orcas, in recent years. Just two years ago, another 24-year-old man died after being attacked by a bear owned by Sam Mazzola. 
Hyde previously had his Animal Welfare Act exhibitor's license suspended for two years after illegally trafficking in endangered tigers in violation of the Endangered Species Act, and now he appears to have violated the Occupational Safety and Health Act, which requires that Hyde furnish employees, like Cloutier, with a work environment free from recognized hazards. Cloutier's death could have been prevented if Hyde had employed the industry-standard "protected contact" system, which uses barriers and temporary holding cages to prevent direct physical encounters between bears and caretakers, effectively eliminating the likelihood of employee injury or death. Instead, with no such system in place, Cloutier endured violent trauma and died from massive blood loss.
What You Can Do
Like humans, other animals are autonomous beings with their own needs and desires, not props for our amusement. Never buy a ticket to films that feature captive wild animals. And if you have witnessed cruelty or neglect behind the scenes at a film or television production, an ad shoot, a live-animal attraction, or a training facility, please let PETA know.