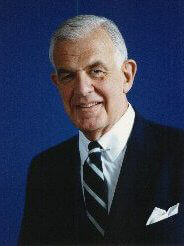 Former Speaker of the House Thomas S. Foley passed away today at the age of 84. While the world mourns the influential man's ability to work with both sides of the aisle, PETA remembers his compassionate contribution to animal welfare.
In 1971, Foley was awarded the prestigious Schweitzer Medal by the Animal Welfare Institute for his "outstanding contributions to animal welfare" after leading the fight to pass amendments that expanded the Animal Welfare Act (AWA) in 1970. One of the amendments required researchers to consider "the appropriate use of anesthetic, analgestic and tranquilizing drugs" for animals used in laboratory experiments. For the first time, laboratories had to file yearly reports documenting their standards of care, including the treatment and use of animals and pain relief. Before the amendment, the AWA didn't require researchers to account for—or even pay attention to—the pain that thousands of primates, cats, dogs, and other animals experienced when they were cut open, burned, poisoned, and mutilated.
PETA works each day to expand Foley's efforts, and we will press for federal protection and pain relief for animals who aren't yet covered by the AWA, including mice, rats, birds, and reptiles—until all animals are out of laboratories and researchers use only relevant and efficient non-animal methods.