"We give dogs time we can spare, and love we can spare. And, in return, they give us their all. It's the best deal anyone ever made."
—M. Acklam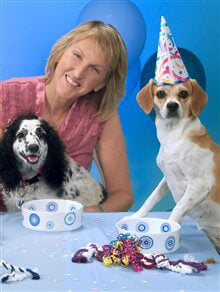 Does your dog get the "leftovers"—leftover time, leftover attention, leftover energy? We're all busy, but our dogs deserve more than leftovers. Quality time with their humans—spent playing fetch or hide-and-seek or getting a massage or even just a scratch behind the ears or a belly rub—is food for the doggie soul. Here are some fun, easy "snacks" for your dog's psyche from PETA President Ingrid E. Newkirk's book Let's Have a Dog Party!
Dogs appreciate the simplest of gestures. Even a few kind words can send a pup into belly-up bliss. Praise your dog often with kind words, such as "Good puppy! What a sweetie! We love you!" and prepare for the wet kisses. Special treats—a new toy (try a musical one), homemade biscuits, or even cardboard boxes to shred, a sock with a ball tied inside it, or a branch to chew on—can make a dog's day. A raised voice can ruin it.
Every dog loves a walk, and they need the exercise (as do we!). They also need to catch up on all the local neighborhood news, so let them sniff. If you're using a collar, which can cause imperceptible but nagging neck injuries even if the dog pulls only slightly, try switching to a safer and more comfortable harness, which gives you better and easier control. Never use a choke or pinch collar—they hurt, and they're dangerous. Your best bet for dogs who pull hard is a Sense-ation harness, which has a front leash attachment.
When the weather is hot, short walks (never jogs) during the coolest parts of the day are best, choosing shady, grassy routes and avoiding hot pavement, which can burn foot pads. If you can't walk barefoot on it, your dog shouldn't have to, either. Walk at a leisurely pace and take along water. Overexerted dogs can quickly suffer from heatstroke because of their fur coats and inability to perspire through their skin, just as they do  when they are left in a hot car.
A dog party is a great way to show that you care. There are plenty of excuses to throw one—birthdays, adoption anniversaries, "bark" mitzvahs, and more. Invite friends to the beach, a dog park, or your backyard, and treat canine and human guests to fun games, snacks, and goodie bags.
For more detailed ideas for giving your biggest fan some star treatment, enter to win a copy of Let's Have a Dog Party! by posting a comment below telling us how you celebrate your dog.*
Written by Michelle Sherrow
*The winner will be chosen at random from commenters who tell us how they celebrate their dogs. The contest ends September 2, 2011, and the winner will be notified by September 16. Rules and restrictions apply. No purchase necessary. Void where prohibited by law.