In 2008, after receiving a whistleblower report, PETA sent two investigators to work at a MowMar, LLP, pig factory farm in Iowa, which supplies pork to industry giant Hormel Foods. The meat industry doesn't like the term "factory farm," of course, but as investigative journalist Ted Genoways points out in his provocative new book, The Chain: Farm, Factory, and the Fate of Our Food, "the fact is that modern hog farming is designed on a factory model, carried out with the exactitude of a factory, and built around serving the needs of other factories—the packinghouses, the packagers, shipping warehouses—farther along the supply chain." And as PETA's investigations have revealed time and again, animals on factory farms are treated like little more than cogs in the machine.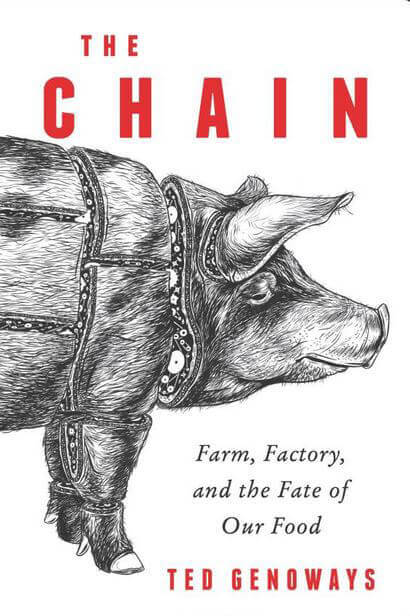 PETA documented that workers at the farm, beat pigs with metal gate rods, inserted a herding cane into a sow's vagina, jabbed clothespins into pigs' eyes and faces, sprayed paint up their snouts, and kicked them in the face, abdomen, and genitals.
Barely two weeks after being hired to work at the farm, one of the investigators was instructed to jab sows with a wooden handle until they stood up. "Hurt 'em," he was told. "Nobody works for PETA out here!"
PETA's investigation, which resulted in the first convictions in Iowa for the abuse or neglect of factory-farmed pigs, is spotlighted in Genoways' book, an unflinching look at an industry that endangers workers, abuses animals, and poisons the planet.
Genoways uses the story of Hormel—and its most famous product, Spam—to examine the hidden costs of America's appetite for cheap meat. When George Hormel first set up shop in 1891, he and his sole employee slaughtered three animals a day. Today, a single Hormel plant can slaughter more than 1,300 animals every hour. The breakneck speed of "the chain" has made meatpacking one of the most dangerous jobs in the country, and workers who stay in the industry for five years have a 50-50 chance of being seriously injured. Genoways interviews former and current workers who lost fingers to saws or were disabled by crippling pain. Several workers developed progressive inflammatory neuropathy after being exposed to aerosolized pig brains at the "head table." Not surprisingly, the meat industry relies heavily on undocumented immigrants who are "willing to endure harsh working conditions, unlikely to unionize or even complain."
Just as modern meat production endangers workers, it also takes a toll on the environment. Iowa's factory farms, for example, produce more than 5 billion gallons of liquid manure every year, and all that excrement has to go somewhere. When it's applied as fertilizer to local fields, people living nearby can experience eye lesions, chronic respiratory problems, and other health issues. And when it washes into local watersheds, it can contaminate drinking water. Genoways talked with an employee at Des Moines' water-treatment facility who advises her daughter not to give tap water to her family because of the high levels of nitrates.
PETA has long said that going vegan is not just an animal rights issue. As The Chain makes clear, eating meat means supporting an industry that exploits workers, harms our communities, and endangers our health. You can read an excerpt from The Chain (and more about PETA's pig farm investigation) at Mother Jones.