If you've ever read one of PETA's "Piense Antes de Comer" leaflets or seen actor Constance Marie's spay-and-neuter billboard—or any of our countless other Spanish materials—you're already familiar with our outreach to Latinos. But at Mama's International Tamales in downtown Los Angeles yesterday, we celebrated a groundbreaking moment with the official launch of our newest outreach division, PETA Latino! And the stars were out to celebrate with us. Television star Marco Antonio Regil hosted the event, and actor Patricia De León unveiled her new pro-vegetarian ad, reading (in Spanish), "Eat Your Vegetables. They're Very Tasty." Hollywood beauties Daniella Alonso and Mayte Garcia were also there to show off their PETA ads and sample the delicious food.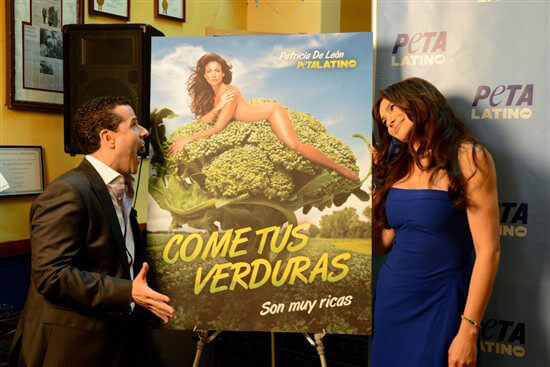 Marco and Patricia both gave impassioned speeches about the importance of reaching out to the Spanish-speaking community and adopting a meat-free diet for animals, human health, and the planet. And PETA's vice president of communications, Lisa Lange, rounded out the afternoon with some words on PETA's ongoing commitment to the Latino community and anyone who wants to live a compassionate lifestyle, no matter what language he or she speaks. "Our goal," she said, "is to make PETA Latino an indispensible resource for everyone in this community."
Marco and Patricia mingled with the dozens of supporters and reporters who came out to share this groundbreaking moment for animals and even stopped to snap a picture with their matching Pure bracelets (made of all-vegan materials, of course!), made by Energy Muse, which is donating a portion of the sales of the stylish bracelet to PETA's lifesaving campaigns.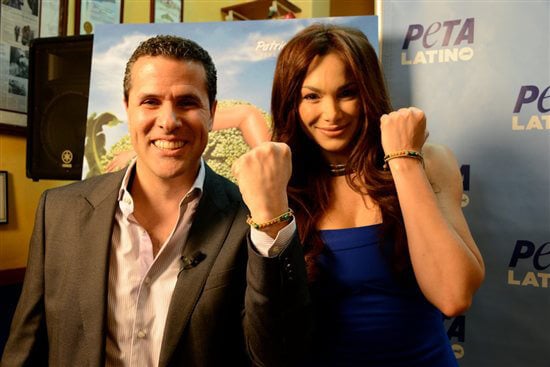 But the fun didn't end when we were done munching on delicious vegan taquitos, tamales, and pupusas. Back at the Bob Barker Building, we got back to work strengthening PETA Latino with new Spanish outreach materials, videos, and content for PETALatino.com. Check it out!