Do you know which group organized America's first World Day for Animals in Laboratories protest in 1980? An alert contestant on Jeopardy did. He correctly answered, "What is PETA?" and earned himself $1,000.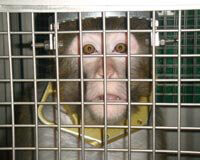 In other Hollywood news:
Travel Channel host Andrew Zimmern earned himself kudos in a recent encore presentation of a Bizarre Foods episode,in which he traveled to Bangkok and taste-tested mock meats at a popular vegetarian restaurant called SPA Foods. The notoriously carnivorous foodie was impressed by the "bacon"-wrapped "sausage" and even more so by the shredded "pork" and "beef," which he called "addictively spicy." He even went so far as to dub the roast "duck" in cherry tomato curry sauce "genius."
Speaking of travel, if you're going to be in St. Catharines, Ontario, next Sunday, drop by the third annual Niagara VegFest. You might get a chance to meet Buffalo Bills wide receiver and Super Bowl vet Ramses Barden, who will be there to talk up the benefits of a vegan diet. A vegetarian for more than a year and a vegan for five months, Barden says he's been "noticing the effects—noticing my energy level, noticing my alertness, noticing certain senses even becoming sharper …. I've had tremendous physical benefits, mental benefits, health, emotional—all those things have just kind of grown."
Something else that's growing? Opposition to SeaWorld's cruelty to orcas, if the Twitterverse is any way to judge. Celebrities took to Twitter this week with criticism of the abusement park and praise of Jason Biggs' hilarious spoof SeaWorld ad:
Hilarious RT @peta: @ochocinco Prepare 2 LOL: @JasonBiggs stars in the funniest anti-@SeaWorld ad EVER!

WATCH: http://t.co/QtOBlBt66Q

— Chad Johnson (@ochocinco) May 16, 2014
Actor @JasonBiggs stars in the FUNNIEST anti-@SeaWorld ad you'll ever see!

WATCH: http://t.co/3mExd8p5WI #SeaWorldSucks

— PETA (@peta) May 16, 2014
unbelievable @JasonBiggs HILARIOUS and so brave and right on. free shamu!http://t.co/5oQ5MuwyRl

— kathy najimy (@kathynajimy) May 16, 2014
@peta @JasonBiggs nice work Jason. Xo

— Laura Vandervoort (@Vandiekins22) May 17, 2014
Awesome! I love my Jeem! RT @peta: @ShannonElizab Are you ready 2 LOL? @JasonBiggs stars in the funniest anti-… http://t.co/z2Fktmne4i

— Shannon Elizabeth (@ShannonElizab) May 17, 2014
Thank you @JasonBiggs for this brilliant and hilarious takedown of @SeaWorld! Must watch! http://t.co/X809Brqcp0

— Leilani Münter (@LeilaniMunter) May 16, 2014
https://twitter.com/NATTYVILLAVECES/status/467450888617869312
https://twitter.com/MarthaPlimpton/status/467455212152967168
We love Florida, but the one place we have to boycott as a race is @SeaWorld #FreetheOrcas #Blackfish #TheCove pic.twitter.com/LXyybSUc02

— Emmett J. Scanlan (@EmmettScanlan) May 18, 2014
Free the prisoners from Sea World! Whales are just as smart, if not smarter than humans. http://t.co/KjRdSfgF6D

— DJ Q*BERT (@DJQbert) May 18, 2014
Planning to take your kids to @SeaWorld please watch @blackfishmovie before.

— Genaro Lozano (@genarolozano) May 18, 2014
Check this video i did with @PETAUK about my thoughts on the movie 'Blackfish'. It's just my opinion: http://t.co/34irV9XiVa

— Josh Franceschi (@joshmeatsix) May 19, 2014
Trying to reply to everyone! Sorry if I dont 🙁 Take your anger out on SeaWorld if you need to, makes me feel better! pic.twitter.com/WTQHMVsE20

— Dave Mooney (@daveidivide) May 20, 2014
@RobertRasha I really liked it, but F sea world.

— Joe Lauzon (@JoeLauzon) May 20, 2014
To keep up with what your favorite celebs are doing for animals, follow @PETA on Twitter.