Today, officers from the Seattle Police Department's South Precinct were reunited with Egypt, the brave dog who was badly injured after chasing off an intruder who broke a window to enter her home.
The ceremony comes a week after the police officers found Egypt shaking and moaning in the bathroom—bleeding from having run through glass to chase the burglar away. Instead of leaving the dog and calling someone else to help her, the kind officers raced to their squad car to grab materials to bandage her severely bleeding legs and then rushed her to a veterinary clinic, where she underwent surgery for two severed tendons in her right front paw and a torn tendon sheath in her left front paw.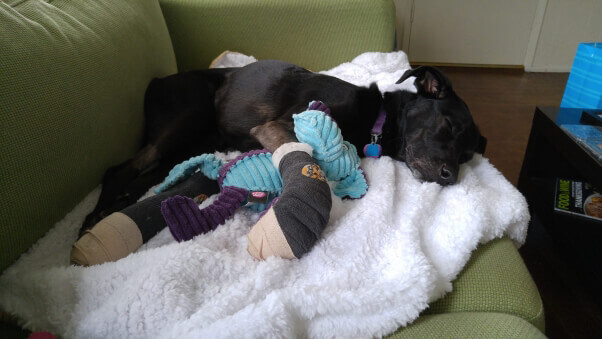 PETA presented Egypt with a Heroic Dog Award, a new toy and a soft, comfy blanket, and the officers who responded to the burglary and saved Egypt's life received a Compassionate Police Department Award and box of vegan chocolates.
"This brave dog risked her life to protect her home, and it's thanks to these officers that she's alive today and recovering at home with her family," says PETA Senior Vice President Lisa Lange. "PETA hopes this story will inspire caring people to come to the aid of animals in need."