Every year, tens of thousands of animals are injected with viruses, bacteria, or other foreign substances and then killed for the antibodies that their bodies produce in response. A review by the PETA International Science Consortium Ltd., just published in the scientific journal Biotechnology Advances, shows that this whole process can easily be replaced with modern technology, such as recombinant antibodies or aptamers (short segments of DNA or RNA that bind to a specific molecular target).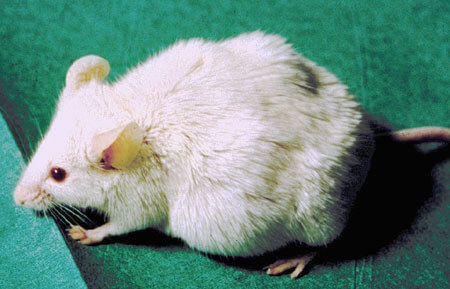 Animals Used as Production Plants
In one method of antibody production in animals, called the ascites method, tumors grow and the animals' abdomens become grossly distended with antibody-containing fluid. A needle is then inserted directly into their stomachs to withdraw the fluid. They may be forced to endure this painful procedure multiple times before they are killed. The procedure is so painful that many countries have banned it, and the U.S. government recommends against it.
Better for Animals and Science
While using animal-derived antibodies is notoriously unreliable, recombinant antibodies and aptamers have the potential to improve the quality and reproducibility of research, as well as saving time and money. The PETA International Science Consortium is working to provide greater awareness of the advantages of these types of modern technology in order to promote their development and use.