In the wake of the storm system that sent dozens of tornadoes spiraling across the southern U.S., PETA visited the hardest-hit state to aid animal victims. After 62 tornadoes hit North Carolina Saturday night, PETA staffers arrived Sunday morning, traveling to devastated neighborhoods to offer animals food, treats, medicine, and doghouses. Chaining dogs is common in the areas that the team visited, so many dogs were left to fend for themselves when the tornado hit and likely did not survive. Fortunately, many did make it, even some whose doghouses were ripped apart.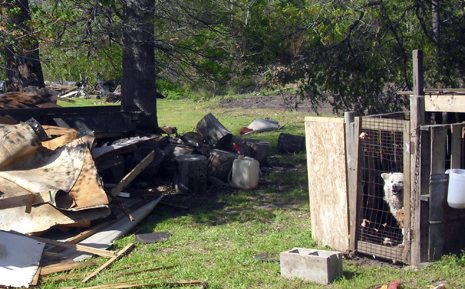 This pretty white dog, named Squirt, rode out the storm in his pen, which was made of wood pallets and a tin roof. Squirt's owner evacuated her trailer just minutes before the trailer flipped upside down and rolled to a stop a few feet from Squirt's pen. Amazingly, Squirt was unharmed, but he was dirty, hungry, and terrified. PETA gave him food, water, a doghouse, straw bedding, and treats.
PETA's Community Animal Project team often travels to North Carolina and will continue to aid animals there. If you would like to help animal survivors of disasters, consider making a contribution to PETA's Animal Emergency Fund. And remember, now is the time to make emergency plans to protect all members of your family.

Written by Michelle Sherrow