Sometimes the most effective way to raise awareness and spark compassion is to present a visual image so jarring that it literally turns heads. That's exactly what PETA founder Ingrid Newkirk did on December 14 by dressing like an elephant and being "beaten" by a handler at a popular Jaipur tourist spot to promote banning elephant rides in India.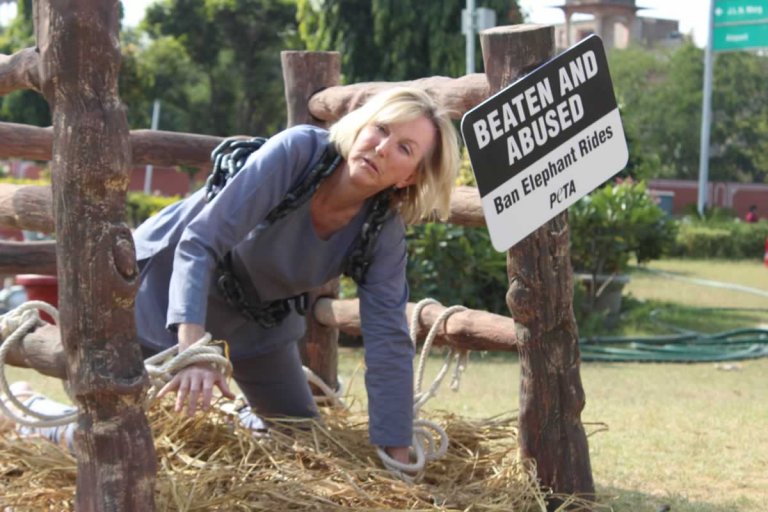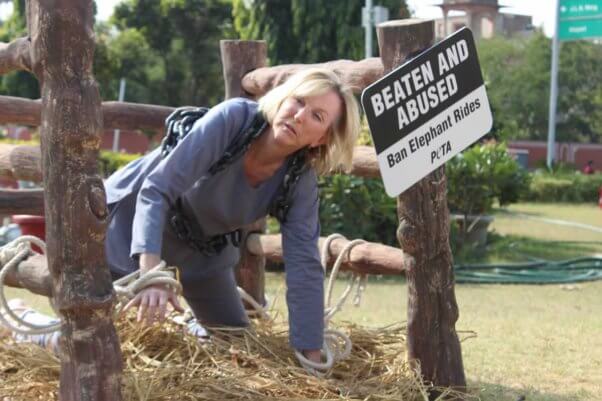 Chained for effect, Ingrid and her mahout (elephant trainer) demonstrated to members of the media, Jaipur residents, and Amber Fort visitors how elephants who are forced to give tourist rides are enslaved, beaten until their spirits break, and denied all freedom. To make Ingrid's demonstration even more realistic, she used the heavy wooden rod that a handler tried to hide when she caught him thwacking a sick baby elephant—also blind in one eye—at the nearby Elephant Village, which operates as a zoo, even though it doesn't have permission from the Central Zoo Authority.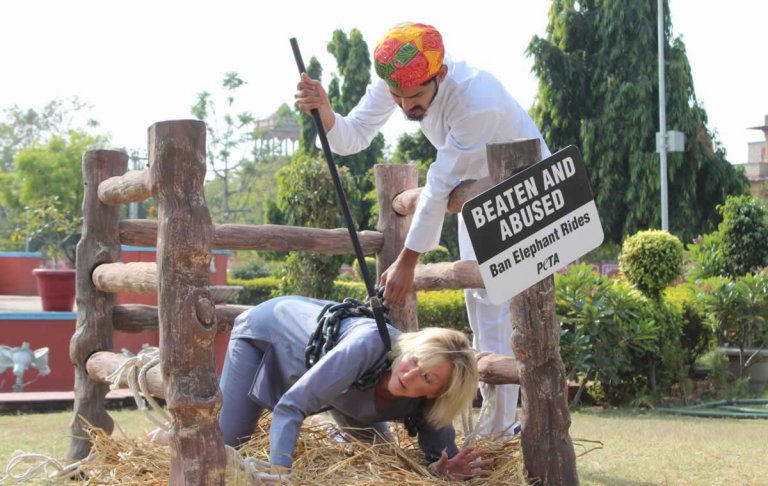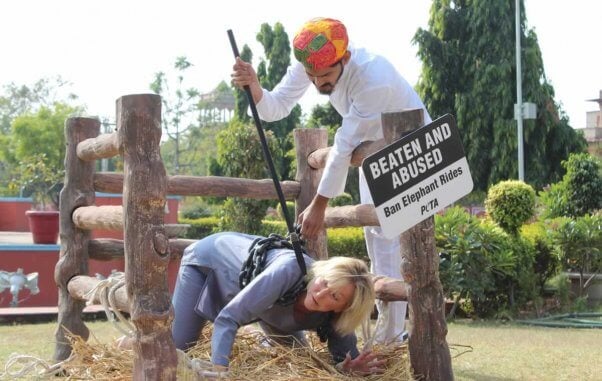 Ingrid's decision to demonstrate at Amber Fort was strategic. This June, a group of American tourists there witnessed two elephants reach their breaking point and try to escape the misery of lugging tourists uphill to the top of the fort, over and over again, in the unbearable heat. Ride operators armed with weapons that they hide inside the howdah (the structure on the elephant's back) recaptured the animals and beat one continuously for approximately 10 minutes, forcing the animal to comply out of fear and pain.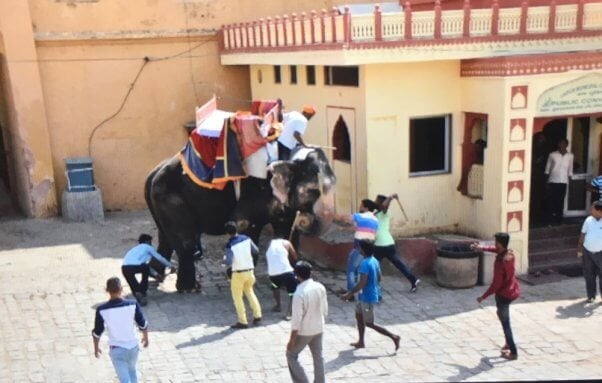 The nightmare of captivity is constant for elephants who are forced to haul tourists, even when they're injured, lame, or blind, as many are. They endure barbaric training to "break" them as youngsters and then routine beatings and psychological torment. Trainers even pierce elephants' sensitive ears and drill holes into their tusks, which contain live bone. Instead of spending their days socializing and foraging for food as they do in nature, captive elephants are chained when they're not working—sometimes with spiked hobbles—and forced to stand on hard concrete floors, which causes painful and sometimes fatal foot problems.
Stealing elephants from their families, beating them into submission, and forcing them into a lifetime of involuntary servitude is cruel and unethical. Please help these animals by urging travel companies to stop promoting barbaric elephant rides and posting this video on your social media sites.