Folks watching The Belmont Stakes this weekend got a shocking reality check after the race, in the winner's circle as the trophy was being presented when a PETA representative whipped out a sign demanding a ban on dopers in horseracing.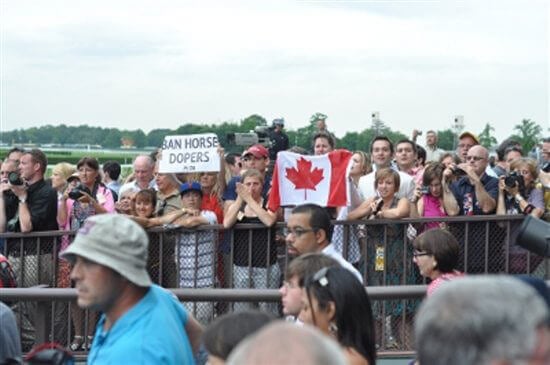 Readers of The PETA Files already know that Doug O'Neill, the trainer of Kentucky Derby and Preakness winner I'll Have Another, who scratched at the last minute, has a shameful record of illegally drugging horses, but nine out of the 10 trainers of the remaining contenders have violated drug regulations, too, including Michael Matz, the trainer of Belmont Stakes winner Union Rags.
It's time for racing fans to face up to the seamy practices that they're enabling—and how they're harming horses in the process. Of course, the problem goes far beyond The Belmont Stakes: Only two of the top 20 trainers in the U.S. last year had never been cited for a drug violation.
What You Can Do
Horse racing's dirty secret is out, and it's time for the dopers to get the boot. Please contact your members of Congress and ask them to support the Interstate Horseracing Improvement Act of 2011, which would prohibit the use of performance-enhancing drugs and expand drug-testing requirements at all races.