What could an ingredient company possibly learn from forcing animals to swim until they nearly drown? Your guess is as good as ours, but thankfully, PETA scientists have persuaded a Dutch company to give up the cruel, worthless experiment.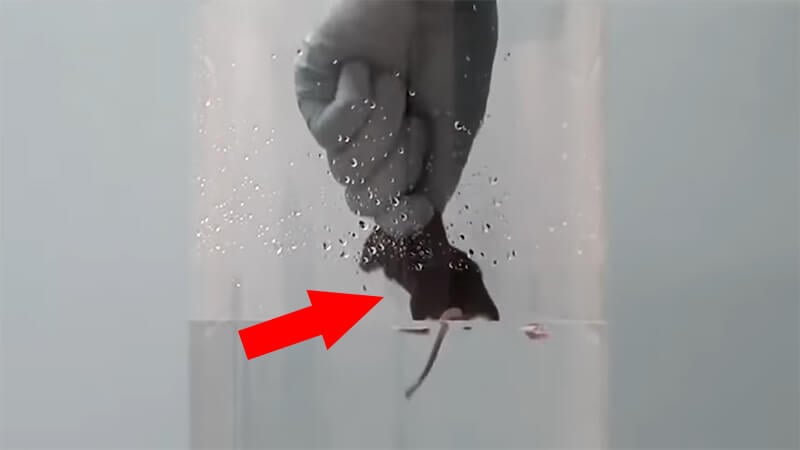 After discussions with PETA, DSM Nutritional Products—which manufactures ingredients used in nutritional supplements and personal-care products—has confirmed that it will no longer use the widely discredited "forced swim test." In this experiment, mice, rats, or other small animals are dosed with a test substance and placed in inescapable beakers filled with water, forcing them to swim to keep from drowning.
DSM previously subjected more than 200 mice and rats to the test in order to make health claims about ingredients such as queen bee acid (a component of royal jelly), DHA, and oregano extract. Animals used in the procedure frantically try to escape by attempting to climb up the sides of the beakers or even diving underwater in search of an exit. They paddle furiously, desperately trying to keep their heads above water. Eventually, most give up and start to float.
Forcing panicked animals to swim in fear for their lives is hideously cruel and tells us nothing about human responses to particular ingredients.
Experimenters affiliated with DSM have claimed that the test was used to measure animals' "depression-like behavior" and identify potentially antidepressant substances, but the theory that the test serves these purposes has been debunked. PETA scientists reviewed published studies and found that the test was less predictive of a compound's effectiveness in treating human depression than a coin toss.
Help PETA Abolish Forced Swim Tests
DSM has made the right call in leaving such bad science behind. The supplement company joins Johnson & Johnson and pharmaceutical giant AbbVie in ending its use of this test. PETA is now calling on Bristol-Myers Squibb, Eli Lilly and Company, and Pfizer to follow suit.
Click below to access our easy-to-use form for demanding that companies stop using the cruel, worthless forced swim test: