If cows survive feedlots and dairy sheds, they're loaded onto trucks and hauled to their final destination: a slaughterhouse. The trip for 40 cows on a transport truck in Ontario became even more hellish when the truck collided with a pickup, sending the former vehicle rolling. Two cows died at the scene.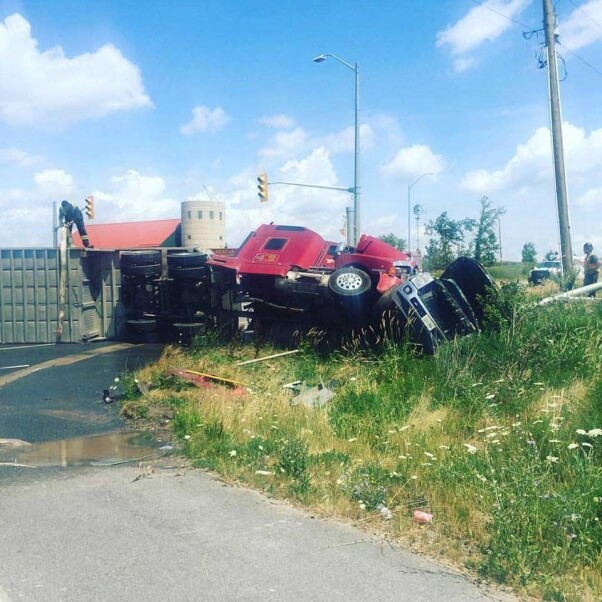 Kathleen Del Chiaro
In order to honor them, PETA is offering to place a memorial at the edge of the highway where the crash occurred. Kathleen Del Chiaro, of Toronto Cow Save, witnessed the aftermath of the accident and sent the following letter to Teepu Khawja, regional director of Ontario's Ministry of Transportation, on PETA's behalf:
Dear Mr. Khawja,

As someone who witnessed the aftermath when a truck carrying cows en route to slaughter rolled over last week, I am writing to ask for your approval to place a 5-foot-tall tombstone memorial (image here) along Highway 89 as a tribute to the two cows who died there. The memorial would be provided by PETA, which has close to 100,000 members and supporters in Ontario.

In addition to the charges that the driver faces for negligent driving, PETA's memorial would cut down on future accidents and make the roads safer for everyone, humans and animals alike, by reminding tractor-trailer drivers of their responsibility to drive safely and conscientiously as they transport thousands of animals to their deaths every day. It would also let everyone who uses the roads know that the best way to prevent such tragedies is to reduce the number of animals sent to their deaths by going vegan, because cows shouldn't ever have to spend their lives on filthy factory farms or endure a terrifying trip to the slaughterhouse.

The memorial would be placed at the edge of the right-of-way farthest from the road in order to prevent it from interfering with traffic. I hope to hear from you soon about how to help get this memorial in place in accordance with your guidelines. Thank you for your consideration.

Sincerely,

Kathleen Del Chiaro

Toronto
What You Can Do
You can help animals, including cows, every day by choosing to go vegan!