At PETA, we know that some rules (such as being quiet in meetings) are meant to be broken, but anti-cruelty laws should never be ignored. That's why when we heard that Ringling Bros. was going to Columbus, Ohio, and taking elephants and abusive bullhooks with it, we wrote to the mayor asking him to enforce a law that bans electric and other prods and similar devices from being used on animals in circuses. And what do you think Mayor Michael B. Coleman said in response? Not a peep.
So we showed up outside City Hall—bullhooks in hand—with signs reading, "Mayor Coleman: Enforce Anti-Cruelty Laws" and "Beating Elephants Is a Crime."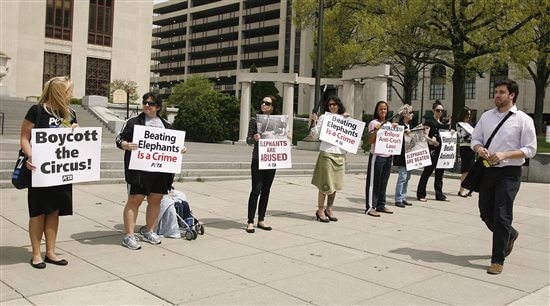 After seeing the bullhooks in person—with their sharp steel hooks designed to dig into elephants' flesh in the most sensitive areas (such as the soft flesh behind the ears and inside the ear and mouth)—here's hoping Mayor Coleman straightens up and enforces the law.
Want to join us when PETA comes to your town to help animals? Join our Action Team!