Although animal rights is still a fairly new concept in China and in much of Asia as a whole, there is no other country in which the movement is growing faster, and PETA Asia is at the forefront.
Notorious Fur Trade Exposed
PETA Asia has conducted groundbreaking undercover investigations of the fur trade in China—now the world's largest exporter of fur—and found that raccoon dogs are beaten with steel pipes and left to die slowly as they writhe in agony in full view of other animals and that rabbits' necks are broken while the animals are still conscious and able to feel pain. Millions of dogs and cats are also killed for their fur in China. This fur is often deliberately mislabeled as fur from other animals before it is exported to the West.
Battling the World's Largest Foie Gras Farm
While California is poised to outlaw foie gras less than a month from now, PETA Asia recently learned that there are plans to build the world's largest foie gras farm at Poyang Lake in China's Jiangxi province.
Birds raised for foie gras are force-fed up to 4 pounds of grain and fat every day via a pneumatic tube that is rammed down their throats. The birds often suffer from internal hemorrhaging, and they can become so debilitated that they can move only by pushing themselves along the ground with their wings. There are no penalties for abusing birds in China.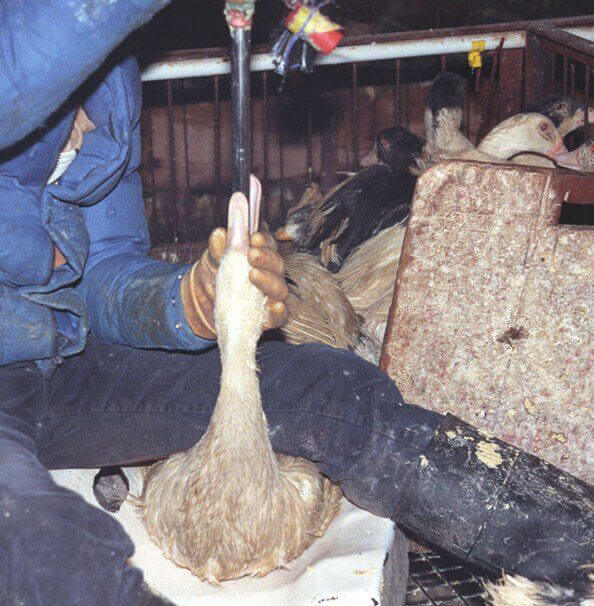 After PETA Asia and other groups protested, the British-owned company that is funding the foie gras farm's construction suspended its funding of the project pending further review. 
Harnessing Star Power
PETA Asia works closely with local activists and groups throughout China as well as with Chinese celebrities to help raise awareness of animal issues. For example, PETA Asia recently unveiled its first-ever Chinese "I'd Rather Go Naked Than Wear Fur" ad, which starred actor, singer, and writer Annie Yi. An exclusive video interview with Annie has been watched by more than a quarter-million people in China.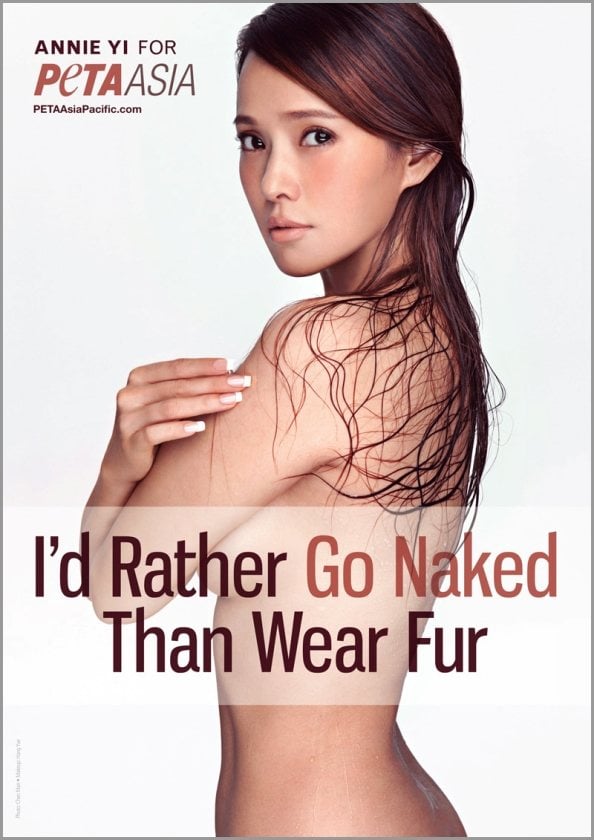 Photo: Chen Man|Makeup: Hang Yue
Chinese actor Li Xiaoran and Hong Kong model Cara G also spoke out against fur, and Cara starred in an Earth Day ad urging people to go vegetarian to help save the planet. Taiwanese pop star Show Luo teamed up with PETA Asia for an ad promoting animal adoption.
PETA Asia is also having a phenomenal impact online—from its Chinese website and blog to social media sites. A PETA Asia tweet about the Canadian seal slaughter got more than 15,000 retweets.
Want to Help?
Thinking about a career—and continent—change? PETA Asia is looking for smart, compassionate, hardworking people to join its team. If you speak Mandarin and are passionate about ending animal abuse—or if you know someone who meets those criteria—please check out PETA Asia's current job openings and send in your résumé.
For those of you want to remain stateside, you can help by checking out the action alerts page on PETA Asia's website.