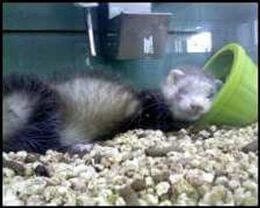 Fewer exotic animals such as hedgehogs, macaws, and lizards will spend their lives locked in cages as "pets," and it all started with a kind woman who wouldn't give up until she got help for a sick, dying ferret in an Arkansas pet store. The woman repeatedly asked the store manager to let her take the ferret home for rehabilitation, but the manager refused. Finally, she called PETA for help. We pushed animal control to check on the ferret, and the store's owner quickly surrendered the ill animal.
PETA's caseworker explained to the store's owner that animals suffer in mass-breeding facilities and animal dealers' warehouses before they end up in pet stores. The owner agreed to watch PETA's undercover video footage from the now-defunct exotic-animal warehouse U.S. Global Exotics, Inc., and the massive ferret factory Triple F Farms, Inc. He was so moved by the plight of wild-born exotic animals—who are often abducted from their families and stuffed into luggage to be smuggled into the U.S.—that he agreed never to buy or sell these animals again.
This victory is an encouragement to us all always to report cruelty and never to miss an opportunity to educate others about how animals suffer in the pet trade and other cruel industries. You never know whose mind you might change!
Written by Lindsay Pollard-Post