© Star Max Inc.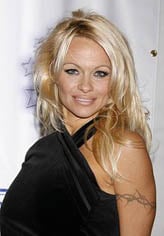 I think it goes without saying that a vote for Pamela Anderson on Dancing With the Stars (DWTS) is a vote for beauty, talent, and animals—which is why I'll be casting all twelve of my votes for her by:
calling 1-800-868-3411
texting the word "vote" to 3411
Giving her all 10 of my online votes
Pamela's run on DWTS has been riveting. And tonight, she's bringing the season's fieriest, most fascinating dance yet: She and her partner Damian Whitewood will be performing the paso doble (the traditional Spanish dance based on the interaction between a matador and bull)—and Pamela will be using the performance as an opportunity to speak out against bullfighting.
In preparation for her performance, which she and Damian are calling "Dance, Don't Bullfight," PETA sent DWTS a sneak peek of our soon-to-be-released anti-bullfighting video starring actor, singer, and guitarist Charo. Charo also joined Pamela in rehearsal to show her some Flamenco moves to spice up her compassionate choreography. With 20,000 people taking action last week to eliminate Madrid's proposal to declare the bloody "sport" to be an activity of cultural value, Pamela's kindly orchestrated move for bulls couldn't come at a more empowering moment.
You can cast 12 votes for Pamela tonight, and if she makes it through to next week, I just might definitely will have a contest lined up for you—so vote for her!
Written by Logan Scherer